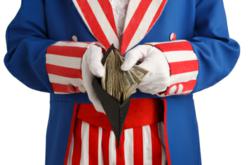 Financial institutions are legally required to try and find the beneficiaries of such money, but it's impossible to track everyone down.
EL SEGUNDO, CA (PRWEB) January 29, 2013
Billions of dollars in missing money is being held by the U.S. government, and according to Go Banking Rates, a quick Web search may be all it takes for Americans to find and claim their missing funds. In the midst of a down economy, high unemployment, and falling savings account interest rates, Go Banking Rates acknowledges that it is worth the minimal time and effort for consumers to find out if they're one of the Americans with missing money to their names.
According to an ABC News article entitled 'Unclaimed Money: Myths and Facts', approximately 1 in 10 Americans is the owner of missing money that has yet to be claimed from the U.S. government. In fact, according to a CNN Money report titled '$58 billion unclaimed: Is some of it yours?', the government currently has over $58 billion in missing funds — roughly $186 for every U.S. resident — that is sitting around, waiting to be claimed by its owners, many of whom don't even know it exists.
All that is required for a person to claim lost money is to search the handful of online databases Go Banking Rates lists in its guide and find out if his or her name is included.
"There are a variety of ways money can go missing," explains Go Banking Rates managing editor, Casey Bond. "A paycheck gets lost in the mail, a person moves or changes names, a deceased parent leaves behind an annuity no one knew existed. Financial institutions are legally required to try and find the beneficiaries of such money, but it's impossible to track everyone down."
Go Banking Rates urges readers to find out if they're missing money, and provides an easy-to-follow guide for searching the Internet for unclaimed funds.
Ms. Bond adds, "Of course, not every person who searches through these databases is going to find missing money, but what's ten minutes when there's a chance a small fortune could be waiting to be claimed?"
Click here to see the full guide to claiming missing money.
About Go Banking Rates
GoBankingRates.com is a national website dedicated to connecting readers with the best interest rates on financial services nationwide, as well as informative personal finance content, news and tools. Go Banking Rates collects interest rate information from more than 4,000 U.S. banks and credit unions, making it the only online rates aggregator with the ability to provide the most comprehensive and authentic local interest rate information.
Additionally, Go Banking Rates partners with a number of major media outlets such as Business Insider and US News & World Report to provide compelling and edifying personal finance content, and its expert editors have been featured and quoted on several premier finance websites like Yahoo! Finance, Forbes, The Street, Huffington Post and more.
For questions or comments, or to schedule an interview with a Go Banking Rates editor, please contact Jaime Catmull, Director of Public Relations, at JaimeC(@)GoBankingRates(dot)com, or 310.297.9233 x261.
###
Sources:
abcnews.go.com/Business/unclaimed-money-myths-facts/story?id=15690564
finance.yahoo.com/news/-58-billion-unclaimed--is-some-of-it-yours--202441269.html
money.cnn.com/2013/01/24/pf/unclaimed-money/