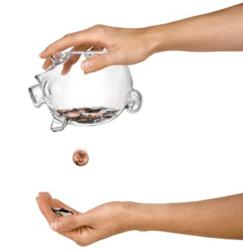 It's not just 'poor people' who struggle with living paycheck-to-paycheck.
EL SEGUNDO, CA (PRWEB) April 18, 2013
Living paycheck-to-paycheck? So are half (48 percent) of Americans, finds a recent NetCredit survey. Additionally, 44 percent of respondents said their primary financial concerns are staying current on their bills and avoiding debt.
"Living paycheck-to-paycheck is an easy trap to fall into, and one that's often very difficult to overcome," says GoBankingRates managing editor Casey Bond. "It's not just 'poor people' who struggle with living paycheck-to-paycheck."
In fact, a survey from CreditDonkey.com found that more than two-thirds (68.4%) of parents live paycheck-to-paycheck, and more than half (53.2%) had less than $1,000 in their savings accounts. But what causes this lack of financial security?
"The problem often comes down to mentality about money and succumbing to lifestyle inflation -- no matter how much people earn, there's always some extra expense to eat up their paychecks and rob them of savings," points out Ms. Bond.
The GoBankingRates guide to breaking the cycle of paycheck-to-paycheck money management can help consumers create financial security and control. It provides a set of steps to adjust attitudes toward money, make a plan of action, and improve spending and saving habits.
For questions about this report or to schedule an interview with a GoBankingRates editor, please use the contact information below.
About GoBankingRates
GoBankingRates.com is a national website dedicated to connecting readers with the best interest rates on financial services nationwide, as well as informative personal finance content, news and tools. GoBankingRates collects interest rate information from more than 4,000 U.S. banks and credit unions, making it the only online rates aggregator with the ability to provide the most comprehensive and authentic local interest rate information.
Contact:
Jaime Catmull, Director of Public Relations
GoBankingRates.com
JaimeC(at)GoBankingRates(dot)com
310.297.9233 x261
###
Sources:
NetCredit, "1 in 2 Americans Indicate They are Living Paycheck to Paycheck," 12 December 2012.
CreditDonkey.com, "More Than Two-Thirds of Parents Live Paycheck-to-Paycheck," 26 February 2013.