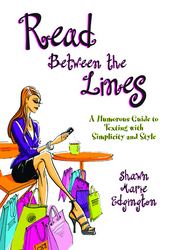 Get with it or get deleted!
Dallas,TX (Vocus) December 14, 2009
With over three billion active users worldwide, texting tops technology's heat index as the most widely used data application on the planet. For those not already onboard with texting and tweeting, it's time to "Get with it or get deleted!"
'Read Between the Lines: A Humorous Guide to Texting with Simplicity and Style' (Brown Books Publishing Group) makes bridging the communication gap between friends, family and colleagues easier than ever. This fun and stylish guide covers everything from need-to-know parental information, to corporate texting and tweeting do's and don'ts, and even tips on using text messaging to enhance relationships, without divulging all (wink, wink, like some golfer we know).
As a successful CEO, entrepreneur and mother of two teenagers, author Shawn Marie Edgington was inspired to write 'Read Between the Lines' (RBTL) when her own mother asked why her kids don't respond to emails or voice messages. This led Shawn to think, "How many other families have communication gaps?" Shawn's goals are to reach out to women of all ages, to educate them on the importance of incorporating texting into their daily lives, and to help close the communication gap that often exists between generations.
This hip, humorous and colorfully illustrated guide shows readers how to keep up with teen texting, tweet on Twitter™, understand how educators and the hard of hearing use texting, and how to text in emergency situations. With an extensive text lingo dictionary and an easy-to-follow quick-start guide, RBTL takes the mystery out of texting for novices, while offering the latest tips, tricks, and etiquette advice for those who have already mastered the art.
'Read Between the Lines: A Humorous Guide to Texting with Simplicity and Style' is available online and at bookstores. For more information, visit http://www.RBTLGuide.com.
###