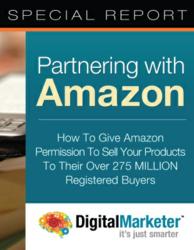 As the title of the Special Report suggests, Amazon is the home to hundreds of millions of customers. They use Amazon for everything from toilet paper to go-karts to, of course, books.
Austin, TX (PRWEB) April 18, 2012
The modern world of digital content needs a guide to self-publishing for the do-it-yourself trend of writing and releasing a book. Many authors are opting out of the old world print publishing method and setting their own rules and their own promotional strategies. Today's DigitalMarketer.com article said that makes them responsible for their own destinies. When done right, self-publishing can be a hundred times better than any other publishing technique.
Digital Marketer is now offering the guide to end all guides for the self-publishing crowd in the form of their latest Special Report. "Partnering with Amazon: How to Give Amazon Permission to Sell Your Products to their Over 275 Million Registered Buyers" covers everything there is to know about making money on Amazon. It includes exclusive sections on the self-publishing features offered by the e-commerce website.
It's important to remember that Amazon is no ordinary retailer, said the article. As the title of the Special Report suggests, Amazon is the home to hundreds of millions of customers. They use Amazon for everything from toilet paper to go-karts to, of course, books.
Amazon has successfully built trust and security within its payment systems, creating a reliable method of storing and using customer credit card information. Breaking through the barrier of "wallet apprehension" is a huge part of marketing success, and Amazon has already done it.
Features like Kindle Direct Publishing make teaming up with Amazon a win-win opportunity, said the article. Self-publishers are able to get their e-books, newsletters, reports, essays, and even comic books published and released on the Kindle e-reader and app. In exchange, Amazon gets the wide-ranging content it wants to continue growing Kindle's size and scope. "Partnering with Amazon" gives people a step-by-step guide to learning how to publish a book with Amazon Kindle.
"Partnering with Amazon" will also show content creators how to get a book published with more flexibility and customization than ever imaginable. The many valued features of Amazon are set up to make using Amazon efficient and effective, said the article. The Special Report focuses on each one, highlighting its strengths, advantages, and best practices. It's also full of color screen shots, which makes each step easy to follow and understand.
The beauty of self-publishing on Amazon is the aftereffects of creating content, which can be seen almost immediately. Since Amazon is so gigantic, its items will always rank high in Google searches. The article said describing and tagging a self-published book with website information will develop free targeted traffic from Google. That way, a personality or business can increase its Internet presence and overall recognition by using the free and easy techniques inside "Partnering with Amazon."
Digital Marketer provides entrepreneurs with the information and confidence to create powerful marketing strategies. Its cutting-edge techniques have produced sales increases and magnified recognition for a multitude of business types. It releases Special Reports like this one, as well as other educational courses and materials to its subscribing members. For more information visit DigitalMarketer.com.
Creating and selling information, whether it's a romance book, scientific study, or memoir, is a breeze when the strategies from Digital Marketers are applied. Get a copy now and make use of the ultimate guide to self-publishing.