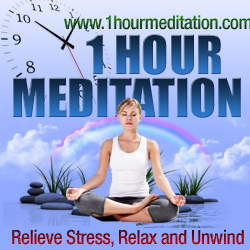 My stress level has been reduced to near zero since I started meditating on a daily basis.
Orangeville, ON (PRWEB) April 5, 2010
Internet entrepreneur Brad Gosse has a busy staff that engages in many tasks throughout the day, which can create a high level of stress. Being aware of how stress can impact his business, Gosse brought in a yoga instructor to his office to help;
"Natasha Boldrieff, a yoga instructor, came to our office every Wednesday morning. For the last 20 minutes of each session she took us through a guided meditation that me and my staff thought was outstanding."
Gosse was so impressed with the results, that he "asked her if she would come in and record an extended version of her guided meditation so that everyone could benefit from this excellent relaxation technique. She graciously accepted."
April is Stress Awareness Month, as sponsored by the Health Resource Network, a non-profit education network consisting of educators and health professionals. Stress Awareness Day is April 16th - the day that taxes are due in the United States. Some facts about stress:
· 75% of the general population experience at least "some stress" every two weeks (National Health Interview Survey).
· Half of those experience moderate or high levels of stress during the same two-week period.
· Millions of Americans suffer from unhealthy levels of stress at work.
· Worker's compensation claims for "mental stress" in California rose 200-700% in the 1980s (whereas all other causes remained stable or declined)
Source: Health Resource Network
"My stress level has been reduced to near zero since I started meditating on a daily basis." Said Brad Gosse, producer of the one-hour meditation audio program and internet entrepreneur, which is guaranteed to reduce stress and help you relax and achieve focus.
By downloading the simple guided meditation audio program at 1hourmeditation.com, everyone now has the ability to take a one-hour meditation break and realize the benefits of stress reduction. All they need is an iPod and a pair of headphones. Samples of the guided meditation are available on the website.
About Your Brain Media:
Your Brain Media has been driving successful website development and online advertising since the early days of the internet. 1hourmeditation.com is its latest successful website launch.
Contact:
Brad Gosse, Yourbrain Media Inc.
519-925-9856
http://www.1hourmeditation.com/
# # #