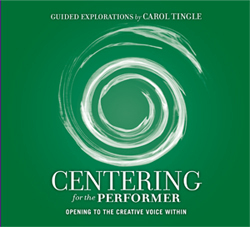 Centering for the Performer: Opening To The Creative Voice Within
Santa Monica, CA (PRWEB) December 18, 2007
Carol Tingle Voice Studio is pleased to announce the release of "Centering for the Performer: Opening To The Creative Voice Within," a set of three CD's with four guided explorations designed to assist those who are involved in any type of performance situation. The CD's feature the music of composer Beverly Rieger. The CD is available on http://www.CenteringForPerformance.com, Amazon.com and CD Baby.
Drawing upon 40 years of teaching and coaching singers and performers of all technical levels and musical styles, Tingle has created her unique method to find "stillness" in the midst of highly charged performance demands. Tingle directs attention to the "person" behind the performer, emphasizing that when there is a change in the "performer," the result is a change in the "performance." According to Tingle, "In the high-pressure world of performance, we witness artists losing themselves to performance anxiety due to the stress and expectation of their own design. Performance can apply to music, acting, writing, dance, business, sports, test anxiety, or any other situation in life where the expectation is intense.
"The natural progression of the four guided explorations gives valuable assistance to those who are on a creative journey of any kind. The work helps the performer/listener to find their own center through addressing and acknowledging their personal needs and issues, thus allowing them to transform and open up to their innate, creative wellspring within," Tingle explains.
New products are in the works, Centering for the Young Performer will be next.
For 40 years, Carol Tingle has been a professional classical singer, a voice teacher of all styles of music, a choral director, music educator and spiritual seeker. After teaching over 25 years in secondary schools in San Luis Obispo and Santa Clara, California, in 1990 she moved to Santa Monica, Calif., where she established her private voice studio. Her teaching integrates a strong foundation in vocal technique and concepts of creativity, centering and spiritual growth for a more fully realized performer/performance.
With a State of California Lifetime Teaching Credential and degrees in voice and music education,Tingle has had vast experience working with professional and non-professional singers of all ages, levels and styles. She is widely regarded for her expert emphasis on vocal technique and safe, healthy vocal production as it relates to the style in which a singer sings. She has taught and facilitated many groups where she has assisted, supported and motivated countless students as they have moved forward in their individual creative journey. Her primary teachers throughout the years have been Conrad Satala, MS and Carolyn Conger, PhD. who have contributed invaluably toward her commitment to and pursuit of her dream of fulfilling her life's purpose.
About Beverly Reiger
Beverly Reiger's music reflects her education and performance from an early age in classical piano and pipe organ. She blends her love of music, spiritual awareness, love of nature and the Mayan lands into her original music compositions. As a performer, composer and recording artist, Reiger uses keyboard, percussion, ethnic flute, and the opportunities presented by computer generated sound and sampled nature sound to create and perform the sacred music of her works: The Beloved, The Journey of Joy, Mayan Dream/Dancers of the Flame, and Heart of Sky/Heart of Earth.
###