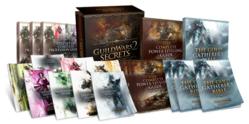 If you're new to MMOs you'll want to check out Guild Wars 2 Secrets, if you're a veteran to MMOs, you'll really wanna check out Guild Wars 2 Secrets
(PRWEB) August 29, 2012
Guild Wars 2 has recently announced their Head Start to begin on the 25th of August and is already having players hit the player cap before the official launch date itself. Primarily using tactics to boost themselves through the use of effective guild members who funnel crafting materials or even having multiple players using the same account, level cap at 80 was achieved.
Is this how ArenaNet wanted the game to be played? Leveling any way a player wanted? Even Mike O' Brien, the president and co-founder of ArenaNet said "unusual ways to level very fast" and that the team is "fixing these issues as [he] type[s]". This does imply that there could be an exploit involved resulting in players leveling too quickly.
Brad Johnson, however has managed to do the same but without the use of a whole guild fueling his crafting disciplines. Brad usually flies solo, so having to rely on his friends and guildies is not something he would have suggested or agreed to. As he'd participated in all the beta weekend events and as many of the stress events, recorded everything of his journey there and replicated it (while fixing mistakes) when Guild Wars 2 went live, there really wasn't any reason to ask his mates and guildies to give up their crafting materials just so he could hit 80 in less than a day.
Being one of Brad's college buddies, we do go way back when it comes to exploring and exploiting games (especially MMOs) together. Brad had already noticed earlier on when ArenaNet stated players could level to 80 simply by crafting disciplines by getting each and every one of them up to 400. Obviously, since there were 8 different crafting disciplines, there was a simple method to getting each of the crafting disciplines up to at least 125 – 175, getting several levels off each of them just by being donated materials by other players.
But where's the fun in that? Brad has expressed many times that leveling in a game is really the means to an end. Getting to 80 is just a method of having fun by seeing how quickly he's been able to hit 80 without the use of any exploits and to spend as little time as possible actually getting lost or wasting any time. After all, the inherent advantage just by being at level cap pretty much ensures that other players will at best only have equal footing against Brad Johnson's Guardian.
Now, how about "normal" players? What do they want in Guild Wars 2? Sure they're able to work their way to 80 in weeks or months from now due to their job, wife, girlfriend, social life or active schedule. But don't they want to know whether their 2 hours a day spent on Guild Wars 2 is actually productive and showing progress instead of just logging in and out to the same ol' character without much change at all? They should realize by now that getting to level cap is about as important as unlocking content to the whole game. And to do that, the answer's simple, and Brad will show it to them. They just need to take the first step.
Brad Johnson's managed to detail everything regarding to leveling so players don't ever have to ask him a question about leveling. All they need to do is detail where they're lost and compare it with what Brad's already completed so they'll easily be able to handle whatever problem they're having for any particular situation they're stuck in.
Players don't like the idea of wasting time and running circles around a familiar yet confusing location should definitely take a look at Brad's guide. Any veteran MMORPG player who enjoys being a completionist and wants to do everything in Guild Wars 2 will really want to take a look at the guide at http://www.GuildWars2Secrets.Com/SpecialOffer