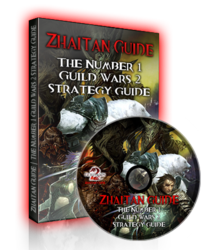 My friends were leaving me in the dust. I have a full-time job, a wife and two kids and just can't afford to spend hours of my life in-game. Thanks to Zhaitan's Guide and the powerful advice offered within its pages, I no longer have to.
(PRWEB) August 30, 2012
Guild Wars 2 players struggling through the leveling process should take note of a new, highly effective power leveling and coin guide entitled Zhaitan's Guide. By utilizing easy to understand instructions and providing an in-depth analysis of all eight Professions, Zhaitan's Guide is guaranteed to help players struggling to find their footing with all the tools necessary to power their way to level 80.
Anyone interested in achieving long-term success within the Guild Wars 2 game is advised to pick up Zhaitan's Guide immediately. The leveling tips and strategies exposed within the guide cannot be found anywhere else on the Internet. Whether you're in the market for epic gear, PvE dominance or tons of gold, Zhaitan's Guide will provide any player with valuable tips, tricks and advice certain to help them achieve in-game goals.
Let's face facts – the higher levels of Guild Wars 2 are the most fun and rewarding. By the time a player reaches level 80, they'll have likely gained access to all of Weapon, Utility and Elite skills, granting them an extra measure of flexibility not found at lower levels. It is this level that Zhaitan's Guide will help any player achieve within just a few days to a week of effective play.
Imagine being the envy of Guild mates and real-life friends alike. That's the power that will be afforded to just by reading and embracing the concepts detailed within the pages of Zhaitan's Guide. Players will simply have a more rewarding experience at the highest level than they did while grinding through the often arduous leveling process.
The world of Tyria can be a disjointing and unforgiving place for both new players and seasoned veterans alike. But with Zhaitan's Guide, eager players will gain access to a myriad of strategies, supplementary videos, screenshots and tips all designed with one purpose in mind: to help them level up and make gold faster than they ever did before.
In addition, subscribers will receive unlimited free updates and lifetime access to Zhaitan's Guide, all for a one time fee of $37. Whether a player has been disappointed by other guides, or are looking for that one guide that actually lives up to the hype, Zhaitan's Guide is the answer to all of their Guild Wars 2 problems.
This reputable and proven guide can be downloaded instantly at http://www.ZhaitanGuide.com/specialoffer