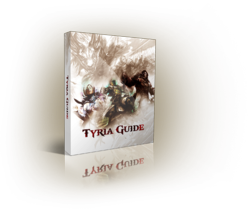 (PRWEB) September 06, 2012
Guild Wars 2 is one of the best MMORPG games of 2012. Since its launch on 28 August, more than 200,000 gamers from all over the world played it, and that number is rising every day. More interesting and unique facts about this new MMORPG release can be found en.wikipedia.org/wiki/Guild_Wars_2. Guild Wars 2 features eight different crafting disciplines, allowing players to maximize their game style. Among the guides that were launched recently for Guild Wars 2, GW2 Tyria Guide is considered one of the best and most complex, because it features the most viable crafting strategies.
Tyria Guide, with more details at tyriagw2guide.com, is created by a group of professional gamers who are famous in the world of MMORPG games. The authors created similar guides for Diablo 3, SWTOR and Tera Online. Their works helps experts and beginner gamers from all around the world because it is accurate and easy to understand.
In a MMORPG game, the process of crafting involves turning various items into equipment or consumables. Crafting allows gamers to enhance their character's strength and to make him stronger in late game. Tyria guide helps players with crafting. The eight crafts in GW 2 are:

Tailor: crafts bags and light armor
Armorsmith: inventory box and heavy armor
Huntsman: crafts bows, rifles, torches and harpoon guns
Jeweler: necklaces, earrings and gems
Chef: foods
Artificer: scepters, tridents and staves
Leatherworker: bags and medium armor
Weaponsmith: axes, daggers, spears and hammer shields
Crafting is all about discovering better items and making the most out of them. For most of the gamers who tried GW2 Tyria Guide, the crafting strategies available in the guide are specially designed for all professions, not just for some of them. In addition to the easy to understand crafting guides, Tyria Guide benefits of regular updates and is free of hacks. Moreover, the guide benefits of a 60-day money back guarantee and comes at a great value.
Full details can be found at http://tyriagw2guide.com.