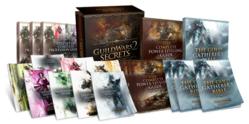 The PvP in Guild Wars 2 is entirely skill based, which is in stark contrasts to most current MMORPGs out there.
(PRWEB) September 06, 2012
Right as soon as players finish the short tutorial within Guild Wars 2, they are given access to the Heart of the Mists. This area is for PvP only, and while in it they will always be the maximum level, 80. In addition to having access to all of their profession's abilities and traits, there are three vendors which sell any weapon, armor, and amulet for free. Players can equip their gear with any rune they like as well.
The reward system in Guild Wars 2 pvp does not give players gear with better stats or abilities. A Glory Rank 1 PvPer has access to all of the gear and skills that a level 40 Glory Rank PvPer has. As players gain rank they earn Glory that they can use to purchase chests which contain different pieces of better looking gear. This means the PvP in Guild Wars 2 is entirely skill based, which is in stark contrast to most current MMORPGs out there.
While in the Heart of the Mists players have the opportunity to train in various ways for PvP. There are targeting dummies that they can practice skills on, as well as bots to fight and an area to practice using various siege engines. Once they've practiced up enough with their profession they can break the ice by heading into one of the many PvP servers. These servers are instant join 8 on 8 pvp battles that players can use to improve their PvP skills.
Once they're comfortable with their PvP skills, players can head into a free tournament. Free tournaments are 5 vs 5 battles that are much more organized. 8 teams enter each tournament and play 3 single elimination rounds on a set list of maps. Players can join a tournament alone or with up to 4 of their friends. Partial entrants will be matched together to form teams of 5.
The rewards for tournaments including bonus glory as well as items. As long as a player wins at least the first round the player will receive a chest as a reward for placing in the tournament. If the player gets to the finals they will receive either a gold or silver chest, both containing much greater rewards than finishing in 4th/3rd.
To dominate the tournament scene, definitely look into the guide found at http://www.guildwars2secrets.com today!