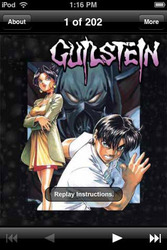 The story of Guilstein has all of the elements of a big-budget sci-fi horror film
Kansas City, MO (PRWEB) February 2, 2009
The Caduceus Virus is spreading - to your multi-touch screen! The Japanese Sci-Fi Manga Guilstein is available now on iPhone and iPod Touch from Uclick, the #1 distributor of comics and manga on mobile. Guilstein Volume 1 is presented in six comic book-length apps available for download on the iPhone App Store at $.99 (US) cents each.
Guilstein tells of a dark, dangerous virus striking Japan, causing 15-year-olds to mysteriously transform into horrifying alien beings. When a boy named Iori inexplicably demonstrates the ability to control his transformation, he becomes the lone hope for the teenagers locked away for observation and experimentation at "The Bug Cage," a super-secret research facility where the powers that be hope to use the virus for personal gain.
"The story of Guilstein has all of the elements of a big-budget sci-fi horror film," said Uclick CEO Douglas Edwards. "Death-dodging teenage protagonists, shady government agencies, mutating alien viruses - Guilstein has them all, and it's presented on the iPhone and iPod Touch with the explosive action, gripping drama and heartfelt emotion that is characteristic of great manga."
Uclick has asserted itself as the leader in manga, comic book, graphic novel and comic strip applications on the iPhone and iPod Touch, with more than 75 applications featuring hit titles such as Jeff Smith's Bone, Teenage Mutant Ninja Turtles, Grounded, GODLAND and Halo & Sprocket, as well as webcomic collections Pibgorn, Basic Instructions and We the Robots and the manga hits Reality Check! and Dramacon.
The iPhone Uclick apps feature tap-and-swipe, panel-by-panel controls. The large multi-touch screen on the Apple devices enables clear, high-resolution presentation, but users can also utilize the zoom feature to get an even closer look at any panel.
To get Guilstein and other favorite comic books, manga and graphic novels for the iPhone and iPod Touch go to the new Uclick Web App by typing Uclick.com into the Safari browser or visit the App Store on the iPhone or on iTunes.
About UCLICK:
UCLICK® is the leading digital entertainment provider of humor, comic strips, manga, graphic novels, editorial cartoons, and other content for desktop, web and mobile phones. Uclick is also the leading creator and distributor of crosswords, and other word and number puzzles. Partners featuring Uclick content include the leading consumer portals Yahoo!, MSNBC.com, New York Times, Slate.com, washingtonpost.com, CNN, USA Today, and AOL. Uclick features include the top brand franchises Garfield, Doonesbury, Calvin and Hobbes, Paul Frank, Teenage Mutant Ninja Turtles, TOKYOPOP, USA Today, Pat Sajak, Wyland, and many more. Uclick creative content and services are available through the GoComics.com website, U.S. mobile phone operators, the iTunes App Store, and other distributors worldwide. UCLICK, LLC is a division of Andrews McMeel Universal, the leading newspaper syndicate and publisher of humor books and calendars in North America.
For more information on Uclick, visit http://www.uclick.com.
GUILSTEIN:
© Naoyuki Sakai, Hisao Tamaki / ACC Pro
Licensed and Translated by Wowmax Media!
###