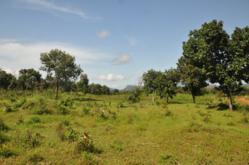 We think this is going to be a great combination to help secure the area's food production. D McClory
CONAKRY, REPUBLIC OF GUINEA (PRWEB) August 07, 2012
On July 30, 2012, Farm Lands of Africa Inc. (OTC Markets: "FLAF" or the "Company") entered into a share exchange agreement with Buddhavarapu Farms SA (BFS) and BFS shareholders whereby upon the closing under the agreement the Company will acquire 100% of the equity capital of BFS in exchange for the issuance to BFS shareholders of 18,416,670 shares of the Company's common stock, representing 66.66% of the Company's outstanding shares on a post-closing basis. BFS is a Republic of Guinea agricultural production company with a strong presence in West Africa and its roots in India.
BFS has a land bank of 220,000 hectares under a Protocol d'Accord from the government of the Republic of Guinea, which converts into leases from the community owners for periods of 50 years. While primarily focused on rice, the current season's campaign also provides for programs to process palm oil and establish eucalyptus plantations. BFS has already completed a season of experimental vegetable production headed by Mr. VCN Reddy. It has commenced rice cultivation and commercial seed production headed by Dr. Gowri Shankar.
Prior to starting the BFS eucalyptus plantation program, a one million-plant nursery has to be established; the program is due to start immediately, drawing on the experience of a strong team led by BFS director Mr. J.S. Rao, formerly an executive with the Indian multinational corporation ITC. A buy-back agreement for eucalyptus has been signed with ITC. The eucalyptus plantation will have maize as an intercrop.
The intended FLAF-BFS agro/forestry model will maintain cash flow during the four year period that is required before the eucalyptus can be cropped. At the same time the maize will address local food shortages in Guinea. BFS is acquiring the crop rights of a Guinean palm oil plantation aged between 6-10 years, together with its allied processing unit, all adjacent to the port of Conakry. FLAF's intention is to export the products.
The first rice cultivation, which starts this year, is experimental. Eight separate seed varieties have been imported from India to determine which is optimal for coastal Guinea. The experimental beds extend to 400 hectares. Commercial seed production will follow immediately once the experimentation results are available. The rice program is also being managed by VCN Reddy.
The founders of BFS are farmers in Andhra Pradesh, the rice bowl of India where their families have farmed for hundreds of years. Mr. S.N. Kumar Buddhavarapu, who is among those joining FLAF's Board, has developed comprehensive expertise in adding value to agricultural products. He has a strong sense of community and has established a charitable trust in India which provides meals for 25,000 children daily from the produce of his farms.
Farm Lands of Africa, Inc. and Buddhavarapu Farms SA share a commitment to agriculture against the backdrop of the renaissance of the newly democratic Guinea. Their agricultural models differ widely in that FLAF's is highly mechanised, while BFS's is traditional human labor. They are similar in that they both pursue the efficiencies of modern seed varieties and fertilizer. Together they can make a real difference to the food security of Guinea.
The Company is pleased to welcome to the board of directors Mr. S.N. Kumar Buddhavarapu. Mr. Kumar has had a successful career in a number of industries in India where he is now focussed on distilling. In West Africa his concentration is on agriculture.
Recognizing the importance of introducing agricultural management techniques to Guinean citizens, BFS is entering into a strategic link with India's Acharya N. G. Ranga Agricultural University (http://www.angrau.net) in Hyderabad to develop and research programs targeted on the specific agricultural conditions of Guinea. The following is the team profile of BFS in Guinea, now part of FLAF's human capital:
PROFILE OF THE AGRICULTURAL TEAM AT CONAKRY
1. VCN Reddy, Agricultural Consultant
An Agricultural Graduate from Acharya N. G. Ranga Agricultural University in Hyderabad, having experience of over 35 years in agro-based industries, sugar, seed and captive farming in the government sector and in private multi-national corporations, his area of expertise includes farm layout, development, formulation of cropping patterns and crop production, and monitoring of paddy, corn, sugar cane, vegetables and bio-fuel plantations.
2. B. Rama Kumar, Assistant Manager (Farms)
An MBA Graduate with an agricultural degree, having experience of 10 years in crop production and management, horticultural crops, and landscaping for estates in the private sector. He is highly capable in seed and crop production technology, with a background of pest and disease management.
3. P. Lakshmi Narayana
An agriculturalist with vast experience of more than 40 years in crop production and management of paddy crops, vegetables, horticultural crops and sugar cane. He is a progressive agriculturalist with high skills in agricultural machinery and equipment usage at the field level.
4. Sita Ramaiah
A diploma holder with rich experience in crop production and management of paddy crops, chilly crops, pulses, tobacco, vegetables and bio-fuel plantations. He also has skills in usage of farm machinery and equipment.
5. J.S. Rao
An expert in eucalyptus and other plantations in the pulp industry. He worked as a Senior Executive at ITC, an India-based conglomerate, focused on the paper industry.
6. Vinobha Chander
A qualified seed scientist with over 10 years of experience in developing seed combinations in tropical and semi-arid regions.
7. Vijay Krishna
Currently heads operations at BFS and has expertise with managing large teams with complex processes. He has varied expertise from working in IT, infrastructure, and manufacturing, and hails from Indian families who have been in agriculture for generations.
8. Dr. Gowri Shanker
A successful seed scientist with strong ties to university research programs with over 20 years of seed development experience in the sub-tropical regions. He also runs agricultural cloning labs in India and is in the process of setting up the same in Guinea.
Contact:
Farm Lands of Africa, Inc.
Mark Keegan, CEO
+44 7786 430 674
markfkeegan(at)hotmail(dot)com
http://www.farmlandsofafrica.com
Hunter Wise Financial Group, LLC
Dan McClory, Managing Director
+1 (949) 233-7869
dmcclory(at)hunterwise(dot)com