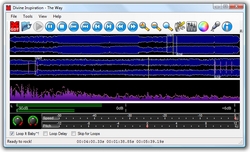 Best Vertical Market Program or Utility Award
Boston, MA (PRWEB) July 22, 2008
Renegade Minds' "Guitar & Drum Trainer" software for musicians won the "Best Vertical Market Program or Utility Award" at the Shareware Industry Awards Banquet. Guitar & Drum Trainer helps musicians of all levels learn new music easier and faster, and runs on Windows 2000/XP/2003/Vista.
The Shareware Industry Awards are presented during the annual Shareware Industry Awards Banquet held at the conclusion of the Software Industry Conference. They honor the best software titles in a variety of categories, with nominees and winners chosen by industry professionals and experts from around the world. Past winners include titles popular enough to be household words such as Microsoft Office 2007, Firefox, Google Earth and WinZip, to lesser known programs that are popular in their niches.
Nominated for the awards in 2005, 2006, 2007, and 2008, Guitar & Drum Trainer won in 2005 and 2006, and again this year in the "Best Vertical Market Program or Utility Award" category. Ryan Smyth from Renegade Minds was not present to accept the award at the ceremony, but in a blog post expressed his regret at not being able to attend saying that air tickets from South Korea were mostly booked and other commitments prevented his attendance this year.
Guitar & Drum Trainer, or simply "GDT", is specialized software for musicians to learn new music faster and easier. It allows musicians to slow down music, pitch shift songs to the tunings of their instruments, loop riffs and musical passages, and remove vocals or instruments from songs. Despite its namesake, the software works with any instrument, and not only guitars and drums.
The software includes tools and features specifically designed for musicians. Rather than a standard ISO equalizer, GDT centers its 62 equalizer bands on musical notes, and instead of a regular slider for seeking through music, it includes a full and a zoomed waveform display.
Major new features in version 4 of the software include vocal and instrument removal tools as well as the ability to save slowed down and pitch shifted songs as FLAC (Free Lossless Audio Codec) files or MP3s with an additional LAME MP3 encoder download. Other new additions include CD playback, an improved 62-band stereo equalizer and beat detection.
Guitar & Drum Trainer has a free trial for musicians to download and evaluate before they decide to purchase and is available for USD 49.95.
###