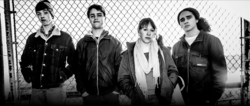 There are so many tremendously talented teen bands in the Twin Cities. School of Rock is thrilled to be able to showcase them at Grand Old Day.
St Paul, MN (PRWEB) June 01, 2013
Grand Old Day is an all-ages festival along Grand Avenue in St. Paul. This year marks Grand Old Day's 40th anniversary. School of Rock is excited to be sponsoring a stage for Teen Bands in the Teen Zone at Grand Old Day.
Sue Evens, Executive Director of the Grand Avenue Business Association said, "We are thrilled to be partnering with School of Rock for the Teen area this year! Grand Old Day prides itself on catering to many different demographics and we are so excited to have a place that will be appealing to the teen audience this year."
Grand Old Day has played host to Teen Battle of the Bands in previous years, but this year School of Rock selected the teen bands that will be playing. The teen talent was selected from an audition process or recommended by professional musicians.
Many bands auditioned, but only a few were selected. "There are so many tremendously talented teen bands in the Twin Cities. School of Rock is thrilled to be able to showcase them at Grand Old Day. We're also excited to partner with GaminRide and Grand Old Day to create a special area just for the teens to enjoy," said Stacey Marmolejo, owner of the three Twin Cities School of Rock locations.
In addition to the School of Rock stage, with live music all afternoon, GaminRide will have one of its mobile gaming units in the Teen Zone. GaminRide is hosting a Guitar Hero competition.
David Soliday, owner of GaminRide Twin Cities said, "Grand Old Days is an exceptional event, providing food, fun and various entertainment options. This year, Gamin Ride is thrilled to partner with School of Rock and Grand Old Day, to provide an area designated especially for teens. We'll have our Mobile Video Gaming Theater available for all to play; we'll also have a special Guitar Hero competition available- and the winner will receive a Guitar from School of Rock!"
The line-up on the School of Rock stage at Grand Old Day includes:
11 a.m. - Little Time Off
12 p.m. - HippoCampus
1:00 p.m. - St. Paul School of Rock House Band
2:00 p.m. - Bomba de Luz
3:00 p.m. - Whistle Kid
4:00 p.m. - Ageless
Grand Old Day is 8 a.m. – 6 p.m. on Sunday, June 2, along Grand Avenue in St. Paul, MN from Fairview Ave to Dale St. For more information on Grand Old Day, please visit: https://www.grandave.com/grand-old-day/general-info.
About the company:
With 15 years of experience and 110 schools throughout the US- including three in the Twin Cities - School of Rock is the leader in performance-based after school music education for ages 7 - 18. Students learn from professional musicians in an interactive environment combining weekly one-on-one lessons with structured group rehearsals culminating in a live performance in front of real crowds in real rock venues. From guitar lessons to piano lessons, keys, bass and vocals, students become confident in their instruments and with themselves.
Through their performance-based approach to teaching music, students are more inspired to learn, more motivated to excel and more confident in everything they do. Their series of programs are specifically designed to take each student through their unique musical journey, always giving them something to aspire to. Whether they are a complete novice or a seasoned musician there will always be something new and challenging for them to reach for.
Not only do their students learn to be great musicians but they establish a work ethic, learn teamwork, and gain confidence that they can take with them throughout their lives. Visit their website for more information, http://stpaul.schoolofrock.com/.