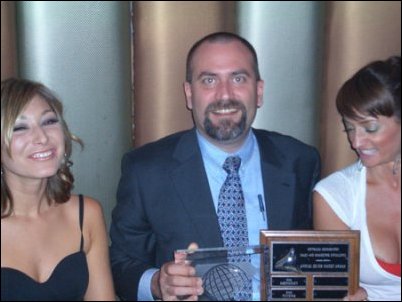 Peace, love and eternal grooviness!
Seoul, South Korea (PRWEB) July 31, 2006
Guitar & Drum Trainer from Renegade Minds won the "Best Application Using .NET" at the 2006 Shareware Industry Awards ceremony for the second year in a row. Ryan Smyth from Renegade Minds was present to receive the award, and in typical "Renegade" fashion ended his brief acceptance speech with, "Peace, love and eternal grooviness!"
Held during the annual Shareware Industry Conference (SIC), the Shareware Industry Awards ceremony recognizes outstanding software deemed of high innovative and technical excellence. Other well-known winners at this year's event in Denver included Microsoft, Google, and the Mozilla Foundation.
Guitar & Drum Trainer is a feature-rich, intuitive Windows-based audio player that gives musicians greater control over playback, making it easier to learn, practice and transcribe music. With Guitar & Drum Trainer, users can slow down the tempo, change the pitch to match their own instrument, loop riffs and licks, and filter out unwanted parts of songs with a studio-grade 31-band equalizer.
Especially useful for beginners, the GDT Speed Trainer feature lets musicians practice along with a piece of music at their own pace, improving accuracy as they adjust to gradually quicker tempos.
For professional studio musicians, Guitar & Drum Trainer is ideal for learning original recordings where no sheet music or transcriptions exist. The convenient "Count in" feature lets solo musicians and bands delay playback, giving them enough time to get back into position at their instruments, such as a drum kit.
Musicians can save loop and EQ settings in Guitar & Drum Trainer, while complete settings can be saved in portable GDT song configuration files for playback later. Color schemes for the EQ visualizations as well as the full and zoomed wave forms are customizable to suit each musician's personal tastes.
About Renegade Minds:
Renegade Minds provides software and Internet consulting services and develops software for the Windows platform. For more information, please visit Renegademinds.com.
Contact:
Ryan Smyth
Renegade Minds
Postcast Links:
Page: http://psn.libsyn.com/index.php?post_id=100278
MP3: http://media.libsyn.com/media/psn/PSN_Show_023.mp3
###