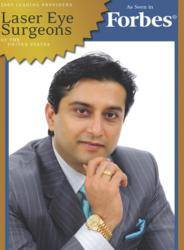 Everybody is a CANDIDATE for perfect vision!
Jacksonville, FL (PRWEB) February 02, 2012
As the only eye surgeon in the world invited to share his futuristic techniques and advances in eye surgery, Dr. Gulani shall share the podium with Noble Laureates at the First BioTech World Conference to be held in Dubai.
He shall present his experience with "No-Stitch" amniotic surgery for pterygium and pinguecula along with Dry eye corrections and concepts for raising vision to beyond 20/20 with next generation Lasers in Lasik and Cataract surgery.
After this exciting conference in Dubai, he shall proceed to teach at the prestigious, World Congress for Eye Surgeons being held in Abu Dhabi where he shall instruct eye surgeons from all over the world about new techniques for Radial Keratotomy, Multifocal lens implants, Keratoconus and Lasik complication corrections.
Lasik, Custom Lasik, iLasik, Bladeless Lasik, Lasek, SBK, ASA and PRK are all forms of Laser Vision Surgery. These surgeries effectively reshape the cornea so nearsightedness, farsightedness and astigmatism can be corrected.
Lens based surgeries including Multifocal, progressive lens implants like crystalens, restor, toric, rezoom and technis have raised the bar on Cataract surgery by allowing people to see clearly as well as address their presbyopia and thereby see in the distance and read up close without any glasses.
For patients who are not Lasik candidates, Visian ICL and Intacs can address their extreme errors while synergize contact lenses and collagen cross linking can be used to address keratoconus.
With such an armamentarium of vision corrective eye surgeries, Dr. Gulani believes that practically every patient who wears glasses and contact lenses is a candidate because a non-candidate eye can be prepared for vision surgery and also combinations can be used to address specific refractive errors.
Thus a Cataract patient can undergo Progressive Lens based Cataract surgery followed by Lasik surgery in combination or a previous Lasik patient prepared for future Cataract surgery as they age.
One-on One Interviews of Dr.Gulani in regards to these future concepts are available at the Gulani Academy.
"In designing vision for every patient, we can and should strive for vision beyond 20/20 in each and every case" - Dr. Gulani
With a "Vision" to help people see beyond 20/20, Dr. Gulani continues to blaze the trail in making glasses and contact lenses an appendage of the past and "Super Vision", a birthright of the future.
###