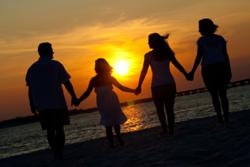 The beautiful sunsets and sugar white sand of the Gulf Coast create a memorable back drop that can't be found anywhere else.
Destin, FL (PRWEB) January 08, 2012
Spring break is right around the corner and visitors are always looking for ways to bring back memories of their vacation. The beautiful sunsets and sugar white sand of the Gulf Coast create a memorable back drop that can't be found anywhere else. However, there are several great locations along the Gulf Coast other than the beaches. Here are TripShock.com's 5 favorite locations for family photos.
1. Pier Park
Pier Park is Panama City Beache's largest outdoor shopping center that includes several name brand stores and restaurants. It also has several attractions for kids to enjoy before or after dinner. The merry-go-round is one of very few on the Gulf Coast and offers families a nostalgic photo opportunity of their children playing on this historic attraction. A few other great places within Pier Park include the bushes shaped like animals, the huge beach ball in front of the movie theatre and the life size Elvis in front of Tootsies's restaurant.
2. Seaside Town Square
Drive thru Seaside and be ready to take several photos as this small beach neighborhood encompasses the upscale and eclectic lifestyle of the Gulf Coast. Take a picture at the town square where you'll find the old post office, which was used in the blockbuster film, "The Truman Show" starring Jim Carrey.
3. Baytown Wharf
Make your way west to the Sandestin Resort and walk thru Baytowne Wharf to sit in the gigantic Adirondack chair, then skip to the life size checkers board, play a game, and snap a shot.
4. Destin Commons
The Destin Commons has great decorations during the holidays with big beautiful Christmas trees and other fun holiday decorations. Those that happen to be lucky enough to visit during the warm months can let the kids enjoy the spray fountain and forever hold their enjoyment in a still frame. While visiting the Destin Commons, stop outside the Bass Pro Shops and stand next to the massive shark (inside also has an impressive fish tank) and snap a shot.
5. The Destin Harbor
The Destin Harbor is a one-of-a-kind photo that can only be found in picture books and stock photos. The Destin Harbor makes up more than 300 yachts and charter fishing vessels, and this doesn't include the several hundred additional boats that are in and out of the harbor daily. Walk on the Destin bridge and take a shot right at sunset of the harbor and east pass.
These are just a few of many great places on the Gulf Coast to take pictures. To hire a family photographer, try using TripShock.com for great deals on packages and pricing.
About TripShock.com
TripShock! ® is the one and only travel agency that enables travelers to book hotels, tours, and activities online directly for the Northern Gulf Coast. TripShock! offers trusted reviews from real travelers, photos, videos and other planning tools to help create the perfect Gulf Coast vacation. TripShock! attracts more than 500,000 visitors annually and partners with over 100 activity and lodging providers from Florida to Louisiana.
###