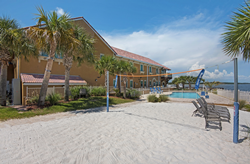 "I think that it is fundamentally untrue that drug abusers themselves are 'the problem'. It would be more accurate to say that addiction is the problem." Barnett Gilmer CEO of Gulf Breeze Recovery
GULF BREEZE, Fla. (PRWEB) February 27, 2019
Purdue Pharma is back in the hot seat legally this month. Gulf Breeze Recovery wanted to bring to the reader's attention an article from NPR about Massachusetts attorney general, Maura Healy naming Purdue Pharma and eight members of the family that owns it in a lawsuit. The suit contends that the pharmaceutical company and members of the Sackler family are "personally responsible" for using misleading tactics to sell OxyContin.
Just last May as stated in the Miami Herald, Pam Bondi, the Florida attorney general, named Purdue Pharma in a suit alongside other drug manufacturers and pharmacy chains. That lawsuit alleges that Purdue Pharma, "launched a campaign of misleading advertising to inflate the market for these drugs, peddling them as safe and appropriate for use to treat a range of chronic conditions, and severely downplaying how addictive and dangerous they are."
Lawsuits against Purdue Pharma and other pharmaceutical companies have surged over the last year, aiming to hold pharmaceutical companies accountable for their alleged role in the current opioid crisis. With more than two thirds of overdose deaths in 2017 attributable to opioids, city, county and state officials look to make sense of the devastation caused by opioids and hold responsible parties accountable.
For their part, Purdue Pharma called the recent allegations "a rush to vilify" them. In an internal e-mail referenced by Maura Healy in the suit, the then-President of Purdue Pharma, Richard Sackler, diverts blame, writing, "we have to hammer on the abusers in every way possible. They are the culprits and the problem."
Barnett Gilmer, CEO of Gulf Breeze Recovery, a substance abuse treatment center, weighs in on Sackler's claim: "I think that it is fundamentally untrue that drug abusers themselves are 'the problem'. It would be more accurate to say that addiction is the problem. A person struggling with addiction is innocently trying to find the same peace and happiness that we all are. Unfortunately, they are misguidedly looking outside of themselves to a drug, which causes immense pain and grave consequences. By focusing on the real problem—the addiction—we can provide treatment and help the person struggling."
About Gulf Breeze Recovery: Gulf Breeze Recovery is changing the future of addiction treatment with the THRIVE® program focused on overcoming chronic relapse. Gulf Breeze Recovery's THRIVE® program is designed for those who are looking for a drug and alcohol treatment program to produce a different and positive result. This non-12 step program allows you to drive beyond your addictions and promotes a new outlook on life. For more information about our program or to speak with an Addiction's expert, please call 855-973-3551 or contact us.