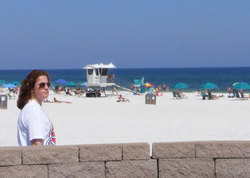 It won't be BP, The White House, or big-box stores that rebuild these communities after the oil is gone. It will be local business owners and their neighbors who bring economic stability back to the region. That's why we're here.
Pensacola, FL (PRWEB) June 15, 2010
As President Obama visits the Emerald Coast this week, long-time residents Theresa Chmiel of Pensacola and Michael Mendelssohn of Fort Walton Beach spend their time meeting with local business owners as they brace for the anticipated environmental and economic impact from the Deep Horizon oil spill. The main topic of conversation is how they will keep their local economy strong enough to withstand the long-term challenges.
"Before we're even scraping the first tar off our flip flops, we need to be prepared," says Chmiel, an ex-nonprofit executive. "We have to stay ahead of the fear and uncertainty that is already creeping under our community's skin and remember everything we have been able to overcome in the past. There may not be a lot that I can do to keep the oil off our shores," she adds, "but, keeping our economy stable can start with me." Her message is simple - RelyLocal.
RelyLocal began launching nationwide in January as a calculated response to the economic downturn across the country. The idea is simple - empower like-minded local business owners to stabilize the local economy while re-educating residents on the important role that local business has in the overall health of the community.
"The timing couldn't be better," says Chmiel, "Now more than ever, locally owned businesses need our support. We haven't seen the oil here yet, but our beaches are already relatively empty as tourists change their summer plans away from the area. It is clear that if we are going to make it through this tragedy, we have to rely on one another." She continues, "As part of our community education efforts, RelyLocal is quickly becoming a trusted local resource for the latest information on the long-term effects this situation might pose to our economy and community. That's why we are excited to be partnering with organizations like the Florida SBDC," says Chmiel. "Businesses need to know that they aren't alone out there. They have a voice, they have advocates. One of our main focuses will be to remind consumers their local dollars spent in local establishments will create a stronger economic foundation to help see the community through the impending impact of oil spill."
Michael Mendelssohn, who is the the process of launching his own RelyLocal campaign in Fort Walton Beach adds, "One of the problems to overcome is that local residents are sending so much of their money out of the area without thinking about the real economic consequences. The RelyLocal campaign will help people better direct their local dollars back into our community, rather than spending it online or in big-box stores - where most, if not all of the revenue leaves the area for good. RelyLocal is as much about re-educating the public on the importance of local business as it is about providing all of the tangible marketing services to the businesses themselves. It isn't just about the economy, it is about restoring a sense of community for our future generations."
"Although the panhandle seems like a large geographic area," continues Chmiel, "we are actually quite a tight-knit community. From Perdido (where the tar balls have already washed ashore) to Panama City, we rely on one another for help. When we are faced with a challenge, we band together to do what it takes to overcome our difficulties. I am proud to join with my neighbors like Michael and do my part to ensure that our community emerges even stronger and more resolute than ever."
"About the time that people were forgetting about [hurricane] Ivan, the recession started. Now, with the oil spill, I guess it is easy to understand why some business owners might be getting ready to throw in the towel," says Mendelssohn. "People will be angry and point fingers, but that's not going to solve our real problems. I'm not saying it will be easy, but I'm an optimist and I'm committed to creating a positive 'I Can' attitude in this community. We need to approach the long-term problems together and we need to start actively planning right now in order to create a more positive future."
RelyLocal's Co-Founder, Steve Ramsey (Bend, OR) says, "We are honored to partner with so many amazing people like Theresa and Michael. It is clear that they not only have a deep sense of responsibility and passion to see their communities thrive, but their optimistic leadership in the face of this tragedy has been truly inspiring."
It appears that their inspiration has been contagious as more and more people launch RelyLocal campaigns across the country; everywhere from Granby, CT, Bozeman, MT, Redondo Beach, CA and Olympia, WA. Each city is represented by an advocate with the common goal of creating a new epidemic of hope and resolve in the face of fear and uncertainty that is still afflicting most of the country for many reasons. Nationally, one of the main goals has been to create as many new jobs across the country as possible that are primarily focused on protecting existing jobs by stimulating the local economic stability and growth from the ground up.
"The trouble in the Gulf region doesn't stop with the environment and the economic fears aren't unique to the area," says Ramsey. "Once the camera crews are gone and the national chains have closed their doors to follow the tourist money elsewhere - that's when the real work begins."
Ramsey adds, "It won't be BP or the White House rebuilding these communities after the oil is cleaned up. It won't be a stimulus package or a big-box store that affects long-term change. It will be local business owners and their neighbors who recognize that it is their responsibility to bring economic stability back to the region. RelyLocal isn't about bumper stickers, websites, and social media networking, it is about people like Michael and Theresa who are willing to put their communities first as they roll up their sleeves, stand united, and get people back to work."
"It will be a lot of work," says Chmiel. "But the biggest difference between success and failure is simply action. Those with faith, hope, integrity, and perseverance will change their world. The rest are merely spectators."
"I strongly believe that it has always been the innovation, diversity, and perspiration of the small business owners that continue to make this country what it is," Ramsey says. "And, it will be the small business owners who will be able to put all of the pieces back together again. All they need is a little help from their neighbors."
Media contacts:
Theresa Chmiel
Owner | RelyLocal - Pensacola
(850) 261-8509
Steve Ramsey
Co-Founder | RelyLocal - National Headquarters
(541) 595-3939
Getting Involved:
People who are interested in joining RelyLocal's campaign to support local business are encouraged to contact their local RelyLocal offices.
###