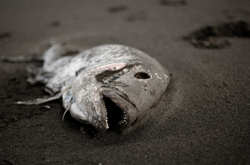 "When I read the label and questioned vendors about certain chemicals in vitamins and nutritional supplements, I was shocked at their response." says Liberty's C.O.O. Russell Bly.
Lutz, FL (PRWEB) June 14, 2010
The BP Gulf Oil Spill may put US seafood off-limits. Sure, fish are low in saturated fat and high in protein. They are full of vitamins and have other nutritional benefits. But over time, a large portion of the US fish stock may become toxic from the Gulf Oil Spill. Soon, seafood lovers will think twice eating seafood tainted with what the Government claims to be "allowable" amounts of chemicals. This includes crude, dispersant, and other chemicals used or leaking from the oil wells in the Gulf of Mexico. Many may decide it's not worth the risk to their health. They'll make that decision because the Gulf Oil Spill is in the news daily. Consumers are bound to become highly educated about the risks of contaminated seafood thanks to all the press coverage.
However, Liberty Health Network, LLC, thinks it's time to learn about other products you consume. Products taken with hopes that they'll lead to good health rather than disease. The products are Vitamins and Nutritional Supplements. Health wise consumers may look for Resveratrol or Quercetin on the Vitamin Supplement Facts label. But Liberty wants everyone to read the fine print. Liberty believes consumers will be impressed with the purity of their supplements. The company is also counting on consumers being disturbed at what's in most competitors Vitamins and Nutritional Supplements.
"When I read the label and questioned vendors about certain chemicals in the Vitamins and Nutritional Supplements they manufactured, I was shocked at the response." says Liberty's C.O.O. Russell Bly.
"When formulating JointMAXe, which supports healthy joints with Glucosamine, Chondroitin, Methyl Sulfonyl Methane, Quercetin, and a proprietary mix of other compounds, we did our homework. Contract manufacturers were disqualified because they actually insisted on adding lubricants and chemicals to help clean the machines. In our New Grape Seed Extract Antioxidant called GSEPlus with Resveratrol and Quercetin, many manufacturers actually insisted on adding the industrial whitener Titanium Dioxide to the supplement. The bottom line: If it's not directly good for the user, and if that compound requires a Material Safety Data Sheet warning workers about risks, it's not going in our product." Bly stated.
"Titanium Dioxide makes sense in Sun Screen or Industrial Paints. But, why swallow this in your vitamins and nutritional supplements for years just because it makes the pill white?" To that question, the former Engineer at the University of South Florida never found a good answer. So, he banned the chemical from current and future products.
Liberty has a long Banned List of chemicals including: Titanium Dioxide, Silica, Talc, Polyethylene Glycol, Stearic Acid, Iron Oxide, Shellac, and more. While the jury is still out on the long-term effects of some of these chemicals, the company believes customers will avoid "tainted" vitamins the way they avoid tainted fish.
For those in doubt, a quick Internet search of "MSDS Talc" yields a data sheet showing the harmless sounding substance that "May cause mild skin irritation. Warns not get onto broken skin.Will contaminate the wound and can cause a severe granulomatous reaction.May cause mechanical eye irritation. May cause respiratory tract irritation. Symptoms may include coughing, labored breathing, sneezing, cyanosis, and vomiting. It may produce permanent effects in the lungs. Ingestion of large amounts may cause gastrointestinal irritation. Prolonged or repeated exposure by inhalation may cause Talc pneumoconiosis (Talcosis) which affects the lungs." Talc is common in many Vitamin capsules.
"On one hand, the US certifies these chemicals safe to consume. On the other hand, workers handling these chemicals must wear everything from protective wear to fresh air respirators. I'll pass on pouring into my palm, tipping back my head, and swallowing these contaminants along with my vitamins for the next few decades. I'll avoid our banned chemicals just like I'll avoid Gulf seafood for now. It's simply not worth the risk." Bly says.
When taking vitamins or nutritional supplements for good health, a little research may be in order. Ensure what's helping the body in one area isn't hurting the body in another. And if fish from the Gulf of Mexico is on the menu despite all the fishing ground closures, perhaps doubling up on an Antioxidant like Liberty Health Network's new GSEPlus may be in order!
Learn more at Liberty Health Network Corporate Site
About Liberty Health Network, LLC.
Liberty Health Network is a global network marketing company offering vitamin and nutritional supplement weight-loss, and skin care products intended to support your lifestyle. Founded in 2000, products are sold in 60 countries through a network of independent distributors. Our Web Sites contain significant information on our products and Business Opportunity.
*These statements have not been evaluated by the Food and Drug Administration. This product is not intended to diagnose, treat, cure or prevent any disease.
SOURCE: Liberty Health Network, LLC
Rosa Reyes
(813) 774-8191
Office(at)libertyhealthbiz(dot)com
# # #