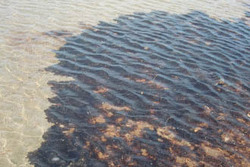 BP and Washington have failed to protect your property from this Disaster......it is time for everyone to protect their property from this catastrophe.
Abbeville, LA (PRWEB) May 25, 2010
The BP Oil Spill continues to destroy Louisiana's coastal marshes. According to GulfRIm Navigation, "BP and Washington have failed to properly protect our marshland from this disaster. Their cavalier attitude and mis-guided efforts have lead to the potential destruction of Louisiana's must valuable and living resource, its wetlands."
Gulf Coast residents owning property along the gulf rim from Texas to the Florida Keys should prepare for months of potential damage to their waterfront and inland properties by the invasion of this devastating oil spill.
GulfRim Navigation is available to help protect Individuals and Businesses personal waterfront properties, camps, inlets and any other water body that needs surface contaiment boom and navigation aids. Neither marina's nor homeowner associations are exempt from this crisis. Most may not be fortunate enough to have BP or the government protect their resources in a timely fashion. If their actions of the past month have been any indication of their future plans, the time to prepare is now.
GulfRim Navigation is available 24/7 to answer any questions someone may have in developing a personal plan of action to prepare for this disaster. Their website at http://www.gulfrim.com has a list of US Coast Guard approved Navigation Aids used in conjunction with the oil spill containment booms. GulfRim Navigation is updating its containment boom section to provide individuals and companies with the latest information on the different types of boom material needed. In the interim please call them toll free at 877-893-0789 or contact larry(at)gulfrim(dot)com for additional information on Boom PDF's and specifications.
GulfRim Navigation is an authorized distributor of Sealite Solar Marine Navigation Aids, Resinex Anti-Pollution Booms and RCY Oil Containment Booms. They are located in Abbeville, LA and serve the entire Gulf of Mexico region and its inland waterways.
###