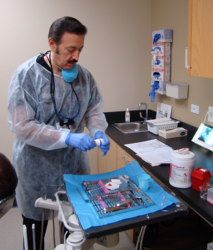 Gum disease and diabetes play off one another in a deadly cycle, with the gum disease stoking the diabetes, and the diabetes feeding the bacterial infection in the mouth.
San Antonio, TX (PRWEB) November 16, 2011
There is a potentially deadly link between oral health and diabetes, veteran San Antonio cosmetic dentist Dr. Edward J. Camacho warns, as the country observes November's National Diabetes Month. It's an especially crucial issue for the Alamo City, whose nearly two-thirds majority Hispanic population is almost twice as likely to develop diabetes as the overall U.S. population
An estimated 26 million Americans – about 8.3% of the population – have diabetes, according to the American Diabetes Association. And nearly 80 million Americans – more than a quarter of the nation's residents, are estimated to have pre-diabetes – a condition that could tip over into clinical diabetes in a number of ways.
Those who already have diabetes have special dental risks; gum disease and diabetes have a dangerous symbiotic relation. Gum disease is a risk factor that could push a person with pre-diabetes into full-blown diabetes. Gum disease also dramatically increases other life-threatening conditions, including heart disease.
Dr. Camacho said gum disease and diabetes are related in a number of ways:

Diabetes means higher levels of glucose – or sugar - in the blood, but it also means higher levels of glucose in saliva. Uncontrolled blood glucose means that extra sugars in the saliva provide much better conditions for the bacteria responsible for tooth decay and gum disease.
Diabetics, who generally have more serious problems with infections than others, are more vulnerable to gum disease, and it can become more severe quickly. In fact gum disease is one of the warning signs of early diabetes.
Gum disease and diabetes each can make the other condition worse. Oral health problems can make diabetes worse, while diabetes can in turn cause or worsen gum disease.
Some researchers think gum disease may play a role in the development of diabetes, by pushing those with pre-diabetes conditions over the edge into clinical diabetes.
Elevated blood glucose affects the body's circulation and impairs the work of white blood cells. This causes healing problems in general, including the repair of oral surgery and rolling back gum disease.
"It's hard to overemphasize the importance of oral health on the body as a whole," said Dr. Camacho. "Diabetes is a killer for Americans as a whole, and it's even worse for Hispanics and African-Americans. This month is a good time to get a diabetes screening, as well as to start a dedicated regiment of oral health."
Dr. Camacho recommends some steps for patients with diabetes:
While new-patient questionnaires ask for information about diabetes, it is often the case that an existing patient is diagnosed. This is especially the case among middle-aged or seniors, who are diagnosed later in life. Given the links between diabetes and gum disease, patients should keep the dentist informed about the diagnosis, as well as new medications.
Because the symptoms can be minor in the early stages, gum disease may be well established before it's diagnosed. If your dentist alerts you to gum disease, you should consider screening for diabetes, especially if you are middle-aged or older, or if you have other symptoms of diabetes.
Diabetic patients should follow the same dental hygiene habits recommended for everyone, but with the extra motivation of understanding the diabetes/gum disease link. Dentists recommend brushing daily with fluoride toothpaste and flossing every day. Gentle brushing is recommended, because of the higher risk of healing problems for diabetics.
"Gum disease and diabetes play off one another in a deadly cycle, with the gum disease stoking the diabetes, and the diabetes feeding the bacterial infection in the mouth." Dr. Camacho said. "But the cycle can work the other direction, too. Aggressive control of blood glucose can greatly reduce the nourishment needed by bacteria in the teeth and gums; and treatment of gum disease, including serious attention to daily oral hygiene, can reduce the harmful effects of worsening diabetes."
Company Information:
Cosmetic Dentistry of San Antonio is a full-service cosmetic dental practice, specializing in dental crowns and dental bridges, Invisalign clear braces, top-quality dental veneers, teeth whitening and traditional orthodontics, as well as a full line of restorative procedures and preventative care.
16535 Huebner (at Bitters) Suite 102
Valencia Village Shopping Center
San Antonio, Texas 78248
(210) 493-9944
###