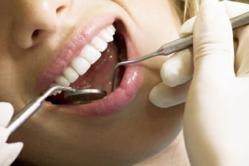 It is no surprise that failure to brush, floss and rinse properly for years can cause your gums to recede but the links to heart attacks, obesity and Type 2 Diabetes are particularly worrying.
Bournemouth, Dorset (PRWEB) December 18, 2012
Maintaining a good daily oral healthcare regime is more important than ever, warn the makers of Eludril mouthwash and Elgydium toothpaste after new research from Norway linked gum disease to diabetes.
Type 2 Diabetes is the latest serious medical condition to be associated with gum disease (gingivitis) following a new study carried out over a 19-year period.
People who neglected their oral health were twice as likely to develop diabetes and three times more likely to suffer a heart attack, the new research showed.
The study into 244 patients was carried out by a team based at a specialist periodontal practice in Egersund, Norway.
It echoes existing research which has suggested links between gingivitis (gum disease) and cardiac conditions.
The new research, which was published in the Journal of Periodontology, also linked a poor daily oral healthcare regime to other medical conditions:

People who did not take care of their teeth and gums were four times more likely to have lost seven or more teeth
They were also four times more likely than people with healthy teeth and gums to be obese.
It is further evidence that neglecting teeth and gums can have more serious consequences for the body's overall health, said a spokesperson for the manufacturers of Elgydium toothpaste and Eludril mouthwash.
"It is no surprise that failure to brush, floss and rinse properly for years on end can cause your gums to recede and put your teeth in jeopardy," said the Elgydium and Eludril spokesperson.
"But it is the links to heart attacks, obesity and Type 2 Diabetes that are particularly worrying.
"The rise in Type 2 Diabetes and obesity in particular have been well documented by the medical profession and are cause for concern," added the spokesperson.
Ignoring early warning signs of gingivitis – such as swollen and inflamed gums – can lead to more serious health problems later on.
So it pays to treat gum disease early – before gums start to bleed or recede and expose more of the tooth.
Fortunately, it is easy to identify and treat the initial signs of gum disease, such as gum pain.
For decades, dental professionals across the world have recommended chlorhexidine as the best treatment for gingivitis.
Both Elgydium toothpaste and Eludril mouthwash contain chlorhexidine, which has a long and proven track record in the successful treatment of gum disease.
For further details about Elgydium and Eludril, please contact Nikki Warner-Green at Ceuta Healthcare on +44 (0)844 243 6661.
-Ends-
Notes For Editors
Eludril and Elgydium are represented in the UK by:
Ceuta Healthcare Ltd
Hill House
41 Richmond Hill
Bournemouth
Dorset
BH2 6HS
Tel: +44 (0)844 243 6661
Eludril Mouthwash is an antibacterial and analgesic solution which can be used to manage a number of oral health problems.
Its main use is to treat and prevent dental plaque formation and gum disease (gingivitis, also known as periodontitis) by preventing the build-up of bacteria.
Eludril Mouthwash can also be used to maintain oral hygiene in situations where tooth brushing is difficult, for instance, following oral surgery or in physically or mentally handicapped patients.
Eludril can also be used as a disinfectant for the cleansing of removable dentures and in the management of common mouth ulcers and oral candidiasis infections (fungus infections).
Elgydium Anti-Plaque toothpaste is specially formulated for sensitive gums and helps to prevent dental plaque and tartar build-up, the major causes of tooth decay and gum disease.
Elgydium Whitening, Sensitive and Decay Protection are also available as part of the Elgydium range of toothpastes.