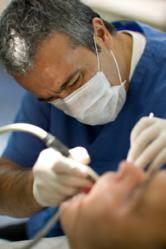 Periodontitis is a more severe form of gum disease than gingivitis. In severe cases it can lead to destruction of tissue and even bone around the teeth.
Bournemouth, Dorset (PRWEB) October 17, 2012
News that nearly half of all Americans aged over 30 have periodontitis should be a wake up call for anyone suffering from gum disease, warn the manufacturers of Eludril mouthwash and Elgydium toothpaste.
Periodontitis is a more severe form of gum disease than gingivitis. In severe cases it can lead to destruction of tissue and even bone around the teeth.
New data from America's Centers for Disease Control and Prevention reveal that 47.2 per cent of US citizens aged 30 or over have mild, moderate or severe periodontitis. That figure increases to 70.1 per cent in those aged over 65.
Periodontal disease occurs when gingivitis is left untreated. It starts when plaque and tartar accumulate at the base of the teeth.
Gums start to feel sore and the inflammation causes a pocket to develop between the teeth and gums.
This pocket fills with plaque (a film of bacteria) and tartar (hard, calcified deposits) which then become trapped inside as the gum tissue swells.
Continued inflammation eventually causes destruction of the tissues and bone surrounding the teeth. A periodontal tooth abscess may also develop, potentially increasing the rate of bone destruction.
Many of the bacteria in plaque are completely harmless but some have been shown to be the main cause of gum disease.
A good daily oral health regime – correct brushing and flossing – is vital in the battle against gingivitis and periodontitis.
Gingivitis is identified by red and swollen gums which may bleed when they are brushed.
"Inflamed gums are an early symptom of gum disease and completely reversible. If you remove the plaque, your gums will recover," said a spokesperson for Elgydium and Eludril.
"This underlines the importance of regular checkups by dentists or hygienists but the first line of defence should be a daily check when you brush."
Watch out for the following signs of gingivitis:

bad breath
an unpleasant taste in your mouth
inflammation of the gums, causing them to look red and swollen
bleeding when you brush or floss
receding gums, which can lead to loosening of the teeth
regular mouth infections.
If you have any of these signs, the first thing to do is to visit your dentist for a thorough check-up and to get treatment as soon as possible.
It is also important to use the right toothpaste and mouthwash.
Elgydium toothpaste and Eludril mouthwash have been specially formulated to treat and prevent the recurrence of gum disease.
Both contain chlorhexidine, recommended by dentists as the gold standard gum disease treatment.
For further details about Elgydium and Eludril, contact Nikki Pounds at Ceuta Healthcare on +44 (0)1202 780558.
Notes For Editors
Eludril and Elgydium are represented in the UK by:
Ceuta Healthcare Ltd
Hill House
41 Richmond Hill
Bournemouth
Dorset
BH2 6HS
Tel: +44 (0)1202 780558
Eludril Mouthwash is an antibacterial and analgesic solution which can be used to manage a number of oral health problems.
Its main use is to treat and prevent dental plaque formation and gum disease (gingivitis, also known as periodontitis) by preventing the build-up of bacteria.
Eludril Mouthwash can also be used to maintain oral hygiene in situations where tooth brushing is difficult, for instance, following oral surgery or in physically or mentally handicapped patients.
Eludril can also be used as a disinfectant for the cleansing of removable dentures and in the management of common mouth ulcers and oral candidiasis infections (fungus infections).
Elgydium Anti-Plaque toothpaste is specially formulated for sensitive gums and helps to prevent dental plaque and tartar build-up, the major causes of tooth decay and gum disease.
Elgydium Whitening, Sensitive and Decay Protection are also available as part of the Elgydium range of toothpastes.