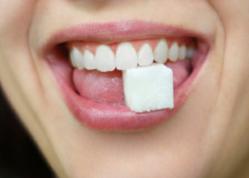 We don't believe that a tax on sugar is the answer. It's not about extremes. We believe it's down to providing help and guidance so the public is aware which foods are high in sugar.
Bournemouth, Dorset (PRWEB) March 27, 2012
Taxing sugar to make sweets and other unhealthy food more expensive would not prevent gum disease, warn the makers of Eludril mouthwash and Elgydium toothpaste.
Sugar consumption across the world has trebled over the last 50 years, according to new research from the University of California which says sugar is as addictive and damaging as alcohol or tobacco.
University of California paediatrics Professor Robert Lustig, a leading child obesity expert, said a major policy shift – such as a sugar tax – was needed to curb excessive consumption.
Too much sugar leads to obesity, high blood pressure and diabetes. It can also affect our oral health by reacting with the bacteria in dental plaque and producing harmful acids.
This can lead to a breakdown of the tooth enamel which will eventually form a hole or cavity known as tooth decay.
It can also encourage the development of plaque which builds up and forms tartar. If left untreated, this leads to gum disease and can result in chronically inflamed gums, receding gums and bad breath.
Scientists now see gum disease symptoms as important early warning signs of more serious problems health elsewhere in the body, such as heart disease.
But the oral health experts at Eludril and Elgydium do not believe that a sugar tax would help to reduce gum disease and its symptoms, such as bleeding gums.
Eludril and Elgydium Senior Brand Manager Nikki Pounds said: "We certainly don't believe that a tax on sugar is the answer. It's not about extremes.
"We believe it's down to providing help and guidance so that the general public is aware of which foods are high in sugar content and should be eaten only in moderation and at certain times.
"There's no reason why we can't all enjoy the occasional sugary treat without feeling guilty or harming our teeth and gums," she added.
She outlined the best ways to avoid gum disease:

eat a good, healthy diet
practice a good oral health care regime, brushing and flossing properly
visit the dentist regularly so teeth can be cleaned professionally, ensuring that all plaque and tartar is removed
be alert to the early signs of gum disease, such as swollen gums and sore gums
Failure to tackle the problem early could eventually lead to receding gums and even tooth loss in the most severe cases.
To prevent gum disease, dentists recommend daily brushing with a medicinal toothpaste such as Elgydium that contains chlorhexidine, the leading gingivitis treatment.
Elgydium is available in Anti-Plaque, Whitening, Sensitive and Decay Protection versions.
Chlorhexidine is also a key ingredient in Eludril mouthwash, which may be used as a short-term treatment for gum disease.
The recommended dosage of Eludril for adults (and children aged over 6) is 15ml, diluted with lukewarm water using the measuring cup provided.
For more information about how Elgydium toothpaste and Eludril mouthwash help to treat and prevent gum disease, contact Nikki Pounds at Ceuta Healthcare on +44 (0)1202 780558.
Notes For Editors
Eludril and Elgydium are represented in the UK by:
Ceuta Healthcare Ltd
Hill House
41 Richmond Hill
Bournemouth
Dorset
BH2 6HS
Tel: +44 (0)1202 780558
Eludril Mouthwash is an antibacterial and analgesic solution which can be used to manage a number of oral health problems.
Its main use is to treat and prevent dental plaque formation and gum disease (gingivitis, also known as periodontitis) by preventing the build-up of bacteria.
Eludril Mouthwash can also be used to maintain oral hygiene in situations where tooth brushing is difficult, for instance, following oral surgery or in physically or mentally handicapped patients.
Eludril can also be used as a disinfectant for the cleansing of removable dentures and in the management of common mouth ulcers and oral candidiasis infections (fungus infections).
Elgydium Anti-Plaque toothpaste is specially formulated for sensitive gums and helps to prevent dental plaque and tartar build-up, the major causes of tooth decay and gum disease.
Elgydium Whitening, Sensitive and Decay Protection are also available as part of the Elgydium range of toothpastes.