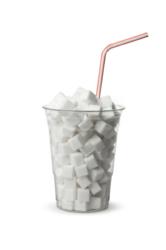 The average non-diet fizzy drink typically contains 12 spoonfuls of sugar so think how much is in every supersized soda.
Bournemouth, Dorset (PRWEB) September 25, 2012
New York's decision to ban supersized sugary drinks highlights the threat they can pose to your gums and teeth, warn the manufacturers of Eludril mouthwash and Elgydium toothpaste.
NYC sent a message to the world when its mayoral-appointed city health board voted 8-0 (with one abstention) to ban sugary drinks of more than 16oz (one pint).
The ban – proposed by Mayor Michael Bloomberg in May – is aimed at targeting America's burgeoning obesity problem.
But it will not just be waistlines that benefit from the new ruling.
Sugary drinks exacerbate gingivitis (gum disease) by encouraging the development of plaque. This leads to oral health problems and has been linked to many other serious conditions such as heart disease, cancer and diabetes.
A spokesman for Eludril and Elgydium said: "The average non-diet fizzy drink typically contains 12 spoonfuls of sugar so think how much is in every supersized soda."
Sugar helps to worsen the build-up of plaque which leads to bacteria – the main cause of gum disease.
Earlier this year a study by the University of California showed that sugar consumption across the world has tripled over the last 50 years.
The university said that sugar had the potential to be as damaging as tobacco or alcohol. Paediatrics Professor Robert Lustig said a major policy shift – such as a sugar tax – would be needed to reduce high levels of consumption.
The oral health experts at Eludril and Elgydium have consistently highlighted the dangers of "hidden sugars" – not just in fizzy drinks but also in flavoured waters and energy drinks.
They also advise that a straw be used when drinking sugary drinks as there is less direct contact with teeth than when consumed from a glass or cup.
Flavoured waters can contain as many as 11 spoonfuls of sugar while supposedly healthy energy drinks have up to 13 spoonfuls, making them even worse than fizzy drinks.
Tooth decay caused by excessive sugar consumption is an obvious problem but it is all too easy to miss the early signs of gum disease.
Some sufferers ignore inflamed or swollen gums – not realising that the problem will soon get worse if they do nothing.
It is not until their gums become sore that they think about seeing their dentist. But they could have avoided the pain if they had booked in for regular check-ups so the problem could have been identified earlier.
Gums that bleed should be an obvious warning sign but some people still ignore the problem, mistakenly believing that it is "just something that happens from time to time".
And by then they could be heading towards receding gums – a symptom that suggests the problem has been overlooked for a protracted period.
Gum recession is not impossible to reverse but it requires surgery. It is much easier to stop your gums from receding in the first place.
To stop gingivitis, dentists recommend using a medicinal toothpaste such as Elgydium that contains chlorhexidine, the leading gum disease treatment.
Elgydium is available in Anti-Plaque, Whitening, Sensitive and Decay Protection versions.
Eludril mouthwash also contains chlorhexidine. It can used as a as a short-term treatment for gingivitis. The recommended dosage is 15ml (for adults and children aged over 6), diluted with lukewarm water.
For further details about Elgydium toothpaste and Eludril mouthwash, contact Nikki Pounds at Ceuta Healthcare on +44 (0)1202 780558.
-Ends-
Notes For Editors
Eludril and Elgydium are represented in the UK by:
Ceuta Healthcare Ltd
Hill House
41 Richmond Hill
Bournemouth
Dorset
BH2 6HS
Tel: +44 (0)1202 780558
Eludril Mouthwash is an antibacterial and analgesic solution which can be used to manage a number of oral health problems.
Its main use is to treat and prevent dental plaque formation and gum disease (gingivitis, also known as periodontitis) by preventing the build-up of bacteria.
Eludril Mouthwash can also be used to maintain oral hygiene in situations where tooth brushing is difficult, for instance, following oral surgery or in physically or mentally handicapped patients.
Eludril can also be used as a disinfectant for the cleansing of removable dentures and in the management of common mouth ulcers and oral candidiasis infections (fungus infections).
Elgydium Anti-Plaque toothpaste is specially formulated for sensitive gums and helps to prevent dental plaque and tartar build-up, the major causes of tooth decay and gum disease.
Elgydium Whitening, Sensitive and Decay Protection are also available as part of the Elgydium range of toothpastes.