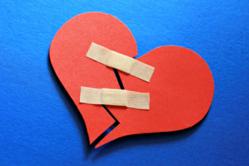 Gum disease can literally break your heart. There is growing evidence that gingivitis can increase the risk of cardiac problems.
Bournemouth, Dorset (PRWEB) February 13, 2012
Fresh breath is a must on Valentine's Day and not just for kissing – gum disease and mouth bacteria are increasingly being linked to heart problems, warn oral health experts from Eludril and Elgydium.
Gum disease can literally break your heart. There is growing evidence that gingivitis can increase the risk of cardiac problems.
Scientists have published a number of theories that link gum disease with heart conditions, say the manufacturers of Eludril medicinal mouthwash and Elgydium toothpaste.
Research presented to the Society for General Microbiology has shown how bacteria can enter the bloodstream through sore gums and then go on to create a clot-forming protein.
The research was carried out by scientists from the University of Bristol in conjunction with the Royal College of Surgeons in Ireland.
Their findings pointed to Streptococcus bacteria which are responsible for causing tooth plaque and gum disease.
"These Streptococcus bacteria can get into the bloodstream and create a protein which causes blood platelets to stick together and clot," said a spokesman for oral health experts from Eludril and Elgydium.
"The research followed a Scottish study of more than 11,000 people – those who did not brush their teeth twice a day were more likely to suffer from heart disease."
Three years ago a team from the University of Kiel in Germany discovered a genetic link between gum disease and heart attacks.
They found a gene mutation in cardiac patients that was also present in people with people with periodontitis. Significantly, both conditions involve common risk factors: smoking, obesity and diabetes.
The Kiel researchers urged people with gum disease to get it treated as early possible – a warning echoed by the oral health specialists from Eludril and Elgydium.
They are urging people to watch out for gum disease symptoms because they could be a prelude to more serious conditions elsewhere in the body:

swollen gums, inflammation and soreness are all early symptoms
bleeding gums indicate that gum disease has been present for some time and has been ignored
receding gums – a problem that can eventually lead to tooth loss or removal in the worst cases.
Preventing and treating gum disease is not difficult. Good oral health begins with regular brushing and flossing but this is not enough.
Regular dental checks are important if gum disease is to be identified early on and treated before it can cause pain, a receding gum line or tooth loss.
Dentists have for several decades recommended chlorhexidine as the leading gingivitis treatment. It is one of the key ingredients in Eludril mouthwash and Elgydium toothpaste.
Eludril mouthwash is a short-term treatment for gum disease. Dental professionals recommend a 15ml dosage (for adults and children aged over 6) diluted with lukewarm water using the measuring cup provided.
Elgydium toothpaste can be used every day to help ward off gum disease. It is available in Anti-Plaque, Whitening, Sensitive and Decay Protection versions.
Find out more about how Elgydium toothpaste and Eludril mouthwash can help to treat and prevent gum disease. Contact Nikki Pounds at Ceuta Healthcare on +44 (0)1202 780558.
Notes For Editors
Eludril and Elgydium are represented in the UK by:
Ceuta Healthcare Ltd
Hill House
41 Richmond Hill
Bournemouth
Dorset
BH2 6HS
Tel: +44 (0)1202 780558
Eludril Mouthwash is an antibacterial and analgesic solution which can be used to manage a number of oral health problems.
Its main use is to treat and prevent dental plaque formation and gum disease (gingivitis, also known as periodontitis) by preventing the build-up of bacteria.
Eludril Mouthwash can also be used to maintain oral hygiene in situations where tooth brushing is difficult, for instance, following oral surgery or in physically or mentally handicapped patients.
Eludril can also be used as a disinfectant for the cleansing of removable dentures and in the management of common mouth ulcers and oral candidiasis infections (fungus infections).
Elgydium Anti-Plaque toothpaste is specially formulated for sensitive gums and helps to prevent dental plaque and tartar build-up, the major causes of tooth decay and gum disease.
Elgydium Whitening, Sensitive and Decay Protection are also available as part of the Elgydium range of toothpastes.
###