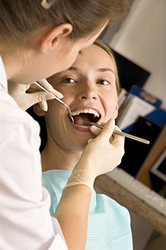 It is important to remember that the first signs of gum disease can be easily treated if caught early and need not result in the loss of teeth.
(PRWEB) October 21, 2010
Gum disease suffered by the rescued Chilean miners has demonstrated the importance of proper dental healthcare, warn oral care experts from Eludril and Elgydium.
None of the 33 trapped miners was able to brush his teeth during the first 17 days of their underground ordeal – resulting in gum disease for a number of the men.
"The world has been transfixed by the plight of the 33 Chilean miners trapped nearly half a mile underground since August 5th and it was heartening to witness their rescue," said a spokesperson for oral healthcare products Eludril and Elgydium.
"It is anticipated that all 33 will make a full recovery but living in a tunnel for nearly 10 weeks has obviously taken its toll on their physical and mental health.
"One of the many health problems they now face is that of gum disease."
All 33 miners had been unable to brush their teeth until rescuers were able to get much needed supplies to them via a five-inch diameter connecting hole drilled from the surface.
Other risk factors will also have had an impact on the miners' oral health:

poor nutrition
hormonal changes due to stress
cigarettes supplied to some miners to relieve their stress and boredom.
The miners are now receiving full medical attention. One of the first priorities has been a full dental check-up and the removal of plaque to help restore the health of their gums.
"This is doubly important as it will not only reduce sensitivity and pain locally but also avoid the long-term health issues associated with poor oral hygiene," said the Eludril and Elgydium spokesperson.
"No-one would wish to experience the physical and emotional trauma the miners faced during their terrible ordeal.
"But it does remind us how quickly gum disease can develop and the importance of regular and effective brushing to remove plaque.
"It is also important to remember that the first signs of gum disease can be easily treated if caught early and need not result in the loss of teeth."
Look out for the following gum disease symptoms:
sore gums or swollen gums can be early indicators of gum disease (often known as gingivitis)
bleeding gums, ironically a problem associated often with brushing the teeth, the very action that should be protecting teeth and gums
receding gums, a sign of serious gum disease left untreated for some time.
As receding gums shrink back they reveal more of the root of the tooth – often leading to increased sensitivity and pain.
Worse than that, a receding gum line will not hold teeth in place as firmly. They can gradually loosen, move and ultimately either fall out or have to be extracted.
Earlier this year a new Scottish health study also linked gum disease with heart disease. People who fail to brush their teeth twice a day run the risk of cardiovascular problems.
Quick, easy and effective treatments are available for those who have detected the early signs of gum disease.
Experts from Eludril and Elgydium recommend visiting a dentist and asking about the best gingivitis treatment: "Chances are they will recommend a Chlorhexidine mouthwash.
"Chlorhexidine is an antibacterial ingredient proven to inhibit the harmful bacteria that cause and worsen gum disease."
Eludril mouthwash – which contains Chlorhexidine – is an antibacterial and analgesic solution used to prevent and treat gum disease by stopping the build-up of bacteria.
Choosing the right toothpaste is just as important. The Elgydium toothpaste range includes a regular Anti-Plaque paste with Chlorhexidine to help prevent dental plaque and tartar build-up – the major causes of tooth decay and gum disease.
There are also Whitening, Sensitive and Decay Protection toothpastes – but unlike many Whitening toothpastes, the whitening agent in Elgydium Whitening (Sodium Bicarbonate) is micropulverised to reduce harmful abrasion of the teeth.
Elgydium Sensitive contains a unique new-generation Fluoride called Fluorinol clinically proven to reinforce teeth against decay by binding to the enamel five times more effectively than ordinary fluoride.
Elgydium Decay Protection also contains Fluorinol, as well as a special agent called Siliglycol that keeps more fluoride on teeth – even after rinsing – to give day-long protection against decay.
For further information about protecting teeth against gum disease, please contact Nikki Pounds on +44 (0)1202 780558.
-Ends-
Notes For Editors
Eludril and Elgydium are represented in the UK by:
Ceuta Healthcare Ltd
Hill House
41 Richmond Hill
Bournemouth
Dorset
BH2 6HS
Tel: +44 (0)1202 780558
Eludril Mouthwash is an antibacterial and analgesic solution which can be used to manage a number of oral health problems.
Its main use is to treat and prevent dental plaque formation and gum disease (gingivitis), also known as periodontitis, by preventing the build-up of bacteria.
Eludril Mouthwash can also be used to maintain oral hygiene in situations where tooth brushing is difficult, for instance, following oral surgery or in physically or mentally handicapped patients.
Eludril can also be used as a disinfectant for the cleansing of removable dentures and in the management of common mouth ulcers and oral candidiasis infections (fungus infections).
Elgydium Anti-Plaque toothpaste is specially formulated for sensitive gums and helps to prevent dental plaque and tartar build-up, the major causes of tooth decay and gum disease (gingivitis).
Elgydium Whitening, Sensitive and Decay Protection are also available as part of the Elgydium range of toothpastes.
# # #