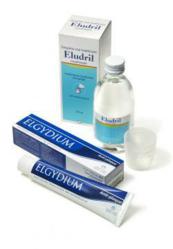 It is good that people understand that good oral hygiene means taking care of your whole mouth – not just your teeth.
Bournemouth, Dorset (PRWEB) August 31, 2011
Increasing numbers of people are using mouthwash to help beat gum disease but many may still be confused by the ingredients, warn oral health experts from Eludril and Elgydium.
Sales of mouthwash in the UK have increased by 44 per cent over the last five years – according to Mintel, a leading market research company – as more Britons realise that good oral hygiene is about more than simply brushing your teeth regularly.
But many people buying mouthwash may be doing so without knowing whether it is tough enough to tackle gum disease.
Treating gum disease can require the short-term use of a medicinal mouthwash containing an antibacterial ingredient such as chlorhexidine, the recognised gold standard among dental professionals.
Chlorhexidine has a proven track record that dates back more than 30 years. It is highly effective at killing off the bacteria that cause plaque and gum disease. Just one rinse using a chlorhexidine mouthwash can work for up to 12 hours.
It is this prolonged power that sets chlorhexidine apart from other anti-plaque agents as a gingivitis treatment.
Chlorhexidine has anti-inflammatory qualities, making it ideal for the treatment of swollen gums. It is also gentle, working at a pH level close to neutral.
Chlorhexidine is the key ingredient in Eludril mouthwash and Elgydium toothpaste, which have been developed to help gum disease sufferers.
"Studies show that more and more people with sore gums are turning to mouthwash to help solve the problem," said a spokesperson for the manufacturers of Eludril and Elgydium.
"It is good that they understand that good oral hygiene means taking care of your whole mouth – not just the teeth.
"But when they are buying mouthwash and toothpaste, how much attention are they paying to the ingredients that these products contain?
"We believe in sharing as much knowledge as possible to help people make an informed choice and select the toothpaste and mouthwash most likely to prevent and treat gum disease problems such as swollen gums."
Good oral hygiene means spotting gum disease symptoms early and then tackling the problem as soon as possible with a visit to the dentist or hygienist.
Gum disease can be treated quickly and easily if tackled promptly.
But some people mistakenly ignore initial soreness in their gums. It is not until they suffer from bleeding gums that they finally consult their dentist.
Bleeding gums are a typical symptom of gum disease that has been ignored and left untreated. Unless action is taken, bleeding gums can soon turn to receding gums.
A receding gum line can – if left untreated – eventually result in teeth either falling out or becoming so loose that they have to be extracted.
Prevention is better than cure. Eludril mouthwash is a proven antibacterial and antifungal treatment.
Eludril is tried and tested with a track record that stretches back at least two decades in the UK. It was first introduced in Britain in 1988. More than 19 million bottles of Eludril are sold around the world every year.
For maximum efficacy, Eludril should be used in a dosage of 15ml (for adults and children aged over 6) that has been diluted with lukewarm water using the special measuring cup provided. Eludril has a pleasant menthol flavour and comes in three pack sizes.
Eludril can also be used as a disinfectant for removable dentures. They should be soaked for an hour in a one in three dilution of Eludril with water.
Elgydium toothpaste also contains chlorhexidine. It can be used as a regular daily toothpaste to help prevent gum disease. The range includes:

Elgydium Anti-Plaque – first introduced in the UK in 1998
Elgydium Sensitive (which also contains Fluorinol)
Elgydium Whitening with micropulverised sodium bicarbonate for non-abrasive polishing and in-depth cleansing.
For further information about protecting teeth against gum disease, please contact Nikki Pounds, Ceuta Healthcare on +44 (0)1202 780558.
Notes For Editors
Eludril and Elgydium are represented in the UK by:
Ceuta Healthcare Ltd
Hill House
41 Richmond Hill
Bournemouth
Dorset
BH2 6HS
Tel: +44 (0)1202 780558
Eludril Mouthwash is an antibacterial and analgesic solution which can be used to manage a number of oral health problems.
Its main use is to treat and prevent dental plaque formation and gum disease (gingivitis, also known as periodontitis) by preventing the build-up of bacteria.
Eludril Mouthwash can also be used to maintain oral hygiene in situations where tooth brushing is difficult, for instance, following oral surgery or in physically or mentally handicapped patients.
Eludril can also be used as a disinfectant for the cleansing of removable dentures and in the management of common mouth ulcers and oral candidiasis infections (fungus infections).
Elgydium Anti-Plaque toothpaste is specially formulated for sensitive gums and helps to prevent dental plaque and tartar build-up, the major causes of tooth decay and gum disease (gingivitis).
Elgydium Whitening, Sensitive and Decay Protection are also available as part of the Elgydium range of toothpastes.
###