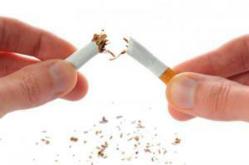 The main cause of gum disease is plaque. It can develop within four hours of eating if teeth are not brushed properly.
Bournemouth, Dorset (PRWEB) October 27, 2011
Millions of people are unaware they are at greater risk of suffering from gum disease and the potentially serious health problems associated with it, warn oral hygiene experts from Eludril and Elgydium.
Gum disease is statistically more likely to affect the following groups:

smokers
girls and women going through hormonal changes including pregnancy
people with diabetes or cancer
those who take particular prescription or over the counter medicines, a side effect of which is to reduce the flow of mouth-protecting saliva.
More than six million people – around 10 per cent of the UK population – are more susceptible to gum disease, which has been linked with coronary artery problems, diabetes, premature births and breast cancer.
But few of these people realise they may be at higher risk of getting gum disease, warn the manufacturers of Eludril mouthwash and Elgydium toothpaste.
It follows a study reported in the British Dental Journal which showed that only 13 per cent of people attending a diabetes clinic realised there was a link between their condition and gum disease.
Most people in the UK will have at least one mild case of gum disease in their lifetime. However, it can be easily treated.
It is estimated that 50-90 per cent of the UK population has some form of gum disease – although there are only six cases of severe periodontitis per 100,000 people annually in the UK.
The main cause of gum disease is plaque. It can develop within four hours of eating – sometimes within a matter of minutes – if teeth are not brushed properly.
In just over 24 hours, the plaque will start to harden swiftly into rock-solid tartar. The process can be complete within two or three days.
And from then it is only a matter of three weeks before the various gum disease symptoms start to become apparent.
One of the first symptoms of gingivitis is swollen gums. This can be easy to ignore until the pain starts.
Bleeding gums are an obvious symptom but some people still persist in turning a blind eye to the problem: some because they mistakenly regard it as a 'normal' occasional occurrence; others because there is no immediate pain, merely a few flecks of blood.
Pain is – or should be – an obvious trigger for action but some people with sore gums will still put off a long-overdue visit to the dentist.
Receding gums can be very serious. In extreme cases, a receding gum line can lead to teeth either falling out or becoming so precariously loose that they have to be extracted by a dentist.
The experts from Eludril and Elgydium are urging people to adopt a few simple practices to protect themselves from gum disease:
Sugary foods should not be consumed between meals but afterwards instead. It lessens the effect of the sugar.
People should avoid brushing their teeth within half an hour of eating sugary food because their tooth enamel will have softened and could be vulnerable to erosion if brushed too soon after the meal.
Regardless of how well people brush their teeth, they will inevitably miss some plaque in hard to reach areas of the mouth and it will quickly harden into tartar. Regularly dental check-ups (at least every six months) are vital so the tartar can be removed by dental professionals.
Using a good toothpaste every day is an important part of a proper daily oral health regime.
Elgydium is a medicinal toothpaste that helps to ward off gum disease. Unlike many other toothpastes, it contains chlorhexidine – a proven gingivitis treatment with a medical history that dates back at least three decades.
The Elgydium toothpaste range includes:

Elgydium Anti-Plaque – initially launched in Britain in 1998
Elgydium Sensitive – which contains Fluorinol, a fluoride that clings to tooth enamel five times better than ordinary fluoride
Elgydium Whitening with micropulverised sodium bicarbonate for non-abrasive cleaning and polishing.
Chlorhexidine is also the active ingredient in menthol-flavoured Eludril medicated mouthwash, recommended as a short-term treatment for gum disease. One rinse can keep working for up to 12 hours.
For best results, dental professionals recommend a 15ml dosage (for adults and children aged over 6) diluted with lukewarm water using the measuring cup provided.
For further information about how Elgydium and Eludril can help to combat gum disease, please contact Nikki Pounds, Ceuta Healthcare on +44 (0)1202 780558.
Eludril and Elgydium are represented in the UK by:
Ceuta Healthcare Ltd
Hill House
41 Richmond Hill
Bournemouth
Dorset
BH2 6HS
Tel: +44 (0)1202 780558
Eludril Mouthwash is an antibacterial and analgesic solution which can be used to manage a number of oral health problems.
Its main use is to treat and prevent dental plaque formation and gum disease (gingivitis, also known as periodontitis) by preventing the build-up of bacteria.
Eludril Mouthwash can also be used to maintain oral hygiene in situations where tooth brushing is difficult, for instance, following oral surgery or in physically or mentally handicapped patients.
Eludril can also be used as a disinfectant for the cleansing of removable dentures and in the management of common mouth ulcers and oral candidiasis infections (fungus infections).
Elgydium Anti-Plaque toothpaste is specially formulated for sensitive gums and helps to prevent dental plaque and tartar build-up, the major causes of tooth decay and gum disease.
Elgydium Whitening, Sensitive and Decay Protection are also available as part of the Elgydium range of toothpastes.
###