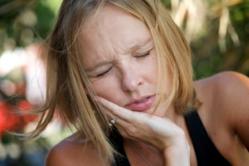 Cutting corners with your oral healthcare can lead to problems like bleeding gums and gum recession.
Bournemouth, Dorset (PRWEB) July 30, 2012
Failure to take oral healthcare seriously is hitting the UK economy as workers with dental problems take time off sick, warn the makers of Eludril mouthwash and Elgydium toothpaste.
At least two million UK workers – seven per cent of the country's workforce – have called in sick due to oral health problems over the last five years, official data shows.
The figures, originally in a labour market report by the Office for National Statistics, have emerged in a new study by UK charity the British Dental Health Foundation.
And many of these cases of sickness absence – notably those caused by gingivitis (gum disease) – could have been prevented, say the oral healthcare experts from Eludril and Elgydium.
They point to the Adult Dental Health Survey for England, Wales and Northern Ireland which shows that a quarter of all adults have not been for a dental check-up in at least two years.
The survey also shows that a similar proportion of adults brush their teeth only once per day – instead of after every meal as recommended by dental professionals.
An Eludril and Elgydium spokesperson said: "Cutting corners with your oral healthcare can lead to problems like bleeding gums and gum recession.
"Failure to brush, floss and rinse correctly can result in a build-up of plaque and oral bacteria – the main cause of gum disease."
Recent years have seen increasing numbers of reports linking gum disease to more serious conditions such as heart disease, cancer and diabetes.
Fortunately, preventing gum disease is not difficult – as long as a proper oral healthcare regime is maintained, says the Eludril and Elgydium team.
That means watching out for signs of gingivitis such as:

Brushing daily with a high quality medicinal toothpaste such as Elgydium can help to prevent the bacteria that cause gum disease.
Elgydium contains chlorhexidine, recognised by dental professionals around the world as the number one antibacterial and antifungal treatment for gingivitis. The Elgydium toothpaste range includes Anti-Plaque, Whitening, Sensitive and Decay Protection.
Chlorhexidine is also a key ingredient in Eludril mouthwash which can be used as a short-term treatment for gingivitis.
Dental professionals recommend a dosage of 15ml (for adults and children aged over 6) diluted with lukewarm water using the measuring cup provided.
For more information about Elgydium toothpaste and Eludril mouthwash, contact Nikki Pounds at Ceuta Healthcare on +44 (0)1202 780558.
Notes For Editors
Eludril and Elgydium are represented in the UK by:
Ceuta Healthcare Ltd
Hill House
41 Richmond Hill
Bournemouth
Dorset
BH2 6HS
Tel: +44 (0)1202 780558
Eludril Mouthwash is an antibacterial and analgesic solution which can be used to manage a number of oral health problems.
Its main use is to treat and prevent dental plaque formation and gum disease (gingivitis, also known as periodontitis) by preventing the build-up of bacteria.
Eludril Mouthwash can also be used to maintain oral hygiene in situations where tooth brushing is difficult, for instance, following oral surgery or in physically or mentally handicapped patients.
Eludril can also be used as a disinfectant for the cleansing of removable dentures and in the management of common mouth ulcers and oral candidiasis infections (fungus infections).
Elgydium Anti-Plaque toothpaste is specially formulated for sensitive gums and helps to prevent dental plaque and tartar build-up, the major causes of tooth decay and gum disease.
Elgydium Whitening, Sensitive and Decay Protection are also available as part of the Elgydium range of toothpastes.