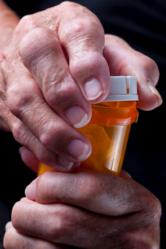 We regularly see new research suggesting that the condition of a person's gums can be a barometer of their body's overall health.
Bournemouth, Dorset (PRWEB) August 29, 2012
Oral health experts at Eludril and Elgydium are urging people to brush their teeth regularly after two new studies linked gingivitis (gum disease) to dementia and rheumatoid arthritis.
Research by the University of California showed that elderly people who did not brush at least once per day were up to 65 per cent more likely to develop dementia than those who brushed thrice daily.
The 18-year study focused on 5,500 elderly people at a California retirement home. Most were affluent and well educated. Their average age was 81:

1,145 showed symptoms of dementia
65 per cent of women who brushed less than once per day developed dementia
22 of men who failed to brush enough showed signs of dementia.
The researchers published their study in the Journal of the American Geriatrics Society. They did not point to a direct link between gum disease and dementia but said there was sufficient association to merit further research.
Their study has prompted the makers of Eludril medicinal mouthwash and Elgydium toothpaste to highlight again the importance of a good daily oral health regime.
In recent years, various medical studies had linked gingivitis with heart disease, cancer and diabetes so it made sense to take gum disease seriously, said the Eludril and Elgydium spokesperson.
"We regularly see new research suggesting that the condition of a person's gums can be a barometer of their body's overall health."
The Eludril and Elgydium team highlighted a recent study which showed that gum disease was also more prevalent among people with rheumatoid arthritis.
The study was carried out at two centres in Hyderabad, India and published in the journal Annals Of The Rheumatic Disease. It compared 91 rheumatoid arthritis sufferers with 93 similar healthy people.
Around two-thirds of those with rheumatoid arthritis showed symptoms of gum disease, compared with a figure of 28 per cent among the healthy people.
Rheumatoid arthritis is an auto-immune disease which results in painful swelling of the joints, reducing movement. It is usually associated with fingers and wrists but can affect any joint.
Although the new study highlighted an association between rheumatoid arthritis and gum disease, it again stopped short of suggesting a direct connection.
However, the Eludril and Elgydium spokesman said the growing number of associations between gum disease and more serious conditions showed it was important to diagnose and treat gingivitis quickly.
"Do not wait until your gums begin to recede before taking action – there are plenty of early warning signs that will alert you to the presence of gingivitis."
Common symptoms of gum disease can include gum inflammation or blood on the gums.
A receding gum line is a sign that gingivitis has been present for some time.
The recognised treatment for gum soreness caused by gingivitis is chlorhexidine. It is recommended by dental professionals as the gold standard.
Chlorhexidine is used in Eludril mouthwash and Elgydium toothpaste to kill the bacteria that cause gum disease.
Elgydium is a medicinal toothpaste that can be used daily to treat gum disease and help to prevent it from recurring. The range includes Anti-Plaque, Whitening, Sensitive and Decay Protection.
Eludril mouthwash can be used as a short-term treatment for gingivitis. Dentists recommend a dosage of 15ml (for adults and children aged over 6). It should be diluted with lukewarm water using the measuring cup provided.
For further details, contact Nikki Pounds at Ceuta Healthcare on +44 (0)1202 780558.
-Ends-
Notes For Editors
Eludril and Elgydium are represented in the UK by:
Ceuta Healthcare Ltd
Hill House
41 Richmond Hill
Bournemouth
Dorset
BH2 6HS
Tel: +44 (0)1202 780558
Eludril Mouthwash is an antibacterial and analgesic solution which can be used to manage a number of oral health problems.
Its main use is to treat and prevent dental plaque formation and gum disease (gingivitis, also known as periodontitis) by preventing the build-up of bacteria.
Eludril Mouthwash can also be used to maintain oral hygiene in situations where tooth brushing is difficult, for instance, following oral surgery or in physically or mentally handicapped patients.
Eludril can also be used as a disinfectant for the cleansing of removable dentures and in the management of common mouth ulcers and oral candidiasis infections (fungus infections).
Elgydium Anti-Plaque toothpaste is specially formulated for sensitive gums and helps to prevent dental plaque and tartar build-up, the major causes of tooth decay and gum disease.
Elgydium Whitening, Sensitive and Decay Protection are also available as part of the Elgydium range of toothpastes.