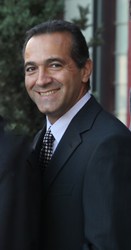 Los Angeles, CA (PRWEB) August 02, 2013
Dr. Sam Markzar, gum allograft specialist, now offers gum tissue grafting services for patients who have lost gum tissue due to periodontal disease or other oral health problems. A gum graft can replace the lost tissue and restore the look and feel of a patient's smile.
Gum allografts have been used in gum surgeries for many years. Allografts are human tissue that is obtained from donors. Just like human donors donate organs, they can also donate tissues. After undergoing rigorous testing and screenings, harvested tissues are applied to the patient's gums by Dr. Markzar using sterile surgical methods.
Gum allografts have been successfully used in many surgeries. The gathering and use of allografts is regulated by the FDA, ensuring that your gum surgery is as safe and successful as possible. All tissues used in gum graft surgery are thoroughly screened to eliminate the possibility of contacting a disease or an infection, and the donor's history is scrutinized prior to the use of the tissue.
About Dr. Markzar
Dr. Markzar graduated with honors from the School of Dentistry at USC in 1994. He then completed postgraduate work in Implantology, advanced Periodontology, and Surgery at USC. Today, Dr. Markzar is a certified continuing education provider as well as a clinical assistant professor in the Department of Advanced Periodontology and Implantology at USC, a position he has held for 13 years.
In addition to the gingival graft, Dr. Markzar also offers a number of other services. He is one of the few dentists in the area who can both place and restore dental implants. In addition, Dr. Markzar places bone grafts to help restore bone density prior to the placement of dental implants, performs sinus lifts, periodontal disease treatments, scaling and root planing, pocket reduction surgery to reduce the size of the pockets as the result of periodontal disease, and crown lengthening procedures to bring balance to a gummy smile.
Contact Dr. Markzar to schedule a consultation for a gum graft procedure, or any other periodontal procedure. Dr. Markzar welcomes new and returning patients.
Contact
Avital Web Inc.
Kevin Neman
(818) 205-9300
PR by Avital Web, Internet Marketing Company