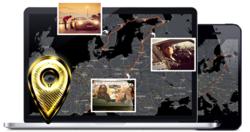 Ascot, Berkshire. (PRWEB UK) 22 May 2013
Every year, the great British institution of Gumball3000 turns 3,000 miles of public roads into an international rally course. The event pits around 120 of the most eye-catching and head-turning cars against one another in the ultimate road trip adventure. This year Gumball's Official Digital Agency, Rawnet, have made following the rally even easier with a live Tweet Photo map capturing all the best bits from city to city. This Twitter/Instagram Application compliments the design and development the official website to the point where you can almost catch the whiff of petrol in the air.
As an Official Partner, Rawnet were keen to apply their digital savvy to create a compelling online meeting place for all the participating Gumballers, as well as the hundreds of thousands of fans worldwide. Among the more high-profile entrants in this special 15th Anniversary rally are David "The Hoff" Hasselhoff, musician and actress, Eve, skateboarding legend, Tony Hawk, the all singing, all dancing Cuban Brothers, rapper and MC Dizzee Rascal, the four-man stunt group from Finland, The Dudesons, rapper, actor and TV host, Xzibit and Formula One Driver, Kimi Raikkonen, to name but a handful.
Rawnet are helping everyone to track the Gumballers' progress en route from Copenhagen to Monaco with our Interactive Live Map. Gumballers simply capture a picture on their phone, then tweet the photo adding the hashtag #rawnet. By enabling Location Services on their mobile devices, they can share moments and memories from the rally on Rawnet's Live Tweet map in mere seconds. It's a great way for Gumballers to update all of their followers, fans and fellow drivers on their position while effortlessly creating their own photo blog throughout the event. Whoever takes the picture that best captures the 'Spirit of the Gumball' will win a Nikon D5100 along with a signed copy of the winning picture from founder, Maximillion Cooper, all courtesy of Rawnet.
So, get involved and experience a taste of the action at http://www.rawnet.com/gumball3000 from Sunday 19th May 2013 to Saturday 25th May 2013. Accompany us on a journey that winds through Stockholm, Helsinki, St.Petersburg, Riga, Warsaw and Vienna before rocking up in Monaco just in time for the Formula 1 Grand Prix on Sunday 26th May. Check out the Live Tweet Map today !