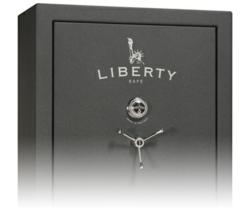 ...they discovered a Liberty Safe and spent an hour with an axe TRYING to gain access to the valuables inside.
San Antonio, Texas (PRWEB) October 14, 2012
The local budding business Liberty Safe of San Antonio recently received a glowing endorsement from the prominent American conservative Glenn Beck. Owner Christian Nelson speaks highly of the endorsement. "We're excited when a well known personality voices support for our safe's. When someone of [Glenn] Becks' authority is willing to vouch for us, it reassures customers that we have an amazing product. High profile personalities wouldn't put their name on it if they didn't believe in it because their reputation is tied to their endorsement." In his commercial on 1200 WOIA, Beck confidently stated that Liberty Safe's were "the best on the planet," and that he personally uses them to protect the valuables at his Mercury Studio.
In an economy where consumers are becoming more concerned with protecting their valuables, guns safes and home safes are rapidly growing in popularity. Nelson just recently expanded to opening a Liberty Safe Austin location to keep up with the demand. "We've been getting great results from all the support and endorsements. I've seen it impact our business, and help us stick out to consumers when they go to make the important decision on investing in their home safe or gun safe. It's a big decision to make, and we're standing out."
Dave Ramsey, the wildly popular debt freedom guru, has done a slew of radio spots for the company as well. Ramsey is known for sharing tips on how to crawl out of debt and smart ways to manage and invest your money. "To get a stamp of approval from Dave is also humbling. He's the guy every one goes to when they want to know the best way to invest their money and protect themselves. For him to clearly show so much support for our product is absolutely amazing. I can't think of a better endorsement to show my customers," says Nelson. Receiving endorsements of this stature has been a powerful force for Liberty Safe's credibility.
In addition to strong endorsements from thoughts leaders like Beck and Ramsey, Liberty Safe has gotten great media exposure to validate their triumph as the best selling safes in America. In 2011, KATU.com covered a peculiar break in that involved a Liberty Safe. The story revealed that the intruders targeted a home while a family was on vacation and leisurely looted the family's belongings away, even taking time to make a sandwich. During the break in, they discovered a Liberty Safe and spent an hour with an axe trying to gain access to the valuables inside. The thieves never breached the entrance to the safe.
As competition increases, the demand for high quality products will become inevitable. Businesses who can secure support from hard hitting media icons will clearly have an advantage in their market. To receive personal guidance on choosing your next safe, visit a Liberty Safe showroom in Austin or San Antonio today.