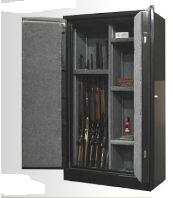 I can Sleep Easily Knowing My AR-15 is Secured - yet easy to access
Boston,MA (PRWEB) January 18, 2013
Americans love their guns. It is fair to say that gun manufacturers and dealers have been doing a real bang up business lately. A Plus Warehouse is a supporter of American's right to keep and bear arms. Bearing arms can well be the difference between remaining alive and becoming a crime statistic. A Plus Warehouse's involvement in guns is exclusively in the 'keeping' category. Responsible, law abiding gun owners know that guns are all dangerous and all of them can be used for good or evil. To minimize the possibility of guns getting into the wrong hands, responsible gun owners utilize gun storage cabinets.
A Plus Warehouse is a nationwide materials handling dealer specializing in storage cabinets. Our Second Amendment line of gun cabinets is made in USA to our specifications. There are two types of second amendment cabinets: High security weapons storage units and Firearm Safes. According to Ed Stairman, "I can sleep knowing my AR-15 is secured yet easy to access if necessary."
Mr. Stairman uses the high security weapons storage cabinet. The fully programmable smooth touch keypad and brass plated lever handle allow easy access. If ever a customer needs to defend himself, time is of the essence. A lock programmed with a simple number can be opened in a snap. The weapons storage cabinet should be considered a basic utility cabinet.
The Second Amendment Firearm Safe should be considered to be a more exotic gun and rifle storage cabinet. One major difference between the two cabinets is fire rating. The Second Amendment safes are all rated for 1,700 degrees for one hour. A 'drystone' insulation barrier is poured and hardened between all sections of the outer and inner safe bodies. This is what enables the cabinet to resist fire and protect customers' valuable firearms Another feature is the range of sizes available. The largest gun safe has a capacity of 40 guns. One cabinet is adequate for a real collector. There is ample shelf room for ammunition as well. Safes also come with a group one rated manipulation proof electric combination lock.
The law requires gun owners to take care in storing their weapons. A Plus Warehouse is ready to help by supplying American made Second Amendment Gun Storage Cabinets nationwide.
The staff at A Plus Warehouse is available to discuss customer requirements. Customers can call at 800-209-8798