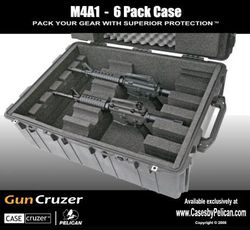 at 160F), 4159-J stacking requirement (400 lbs.), and drop test (48
(PRWEB) June 18, 2008
The Pelican CaseCruzer military case is another novel design from the special series gun cases known as GunCruzer. Ready and able to face down unconventional enemies in civil and international affairs, this Pelican case is the choice for the U.S. Armed Forces when it comes to abusive applications. Demanding field tests have proven this much: M4 6-Pack gun cases are indestructible; fitted with an impermeable seal that is 100 percent watertight. They are also airtight, dust- and corrosion-proof and can float. Like every Pelican case, this "team" carrier comes with an unconditional lifetime guarantee. When you choose GunCruzer, think mission accomplished.
Special Forces units in the U.S. military understand the importance of teamwork. When deployed worldwide to achieve counter-terrorism and other critical objectives, these modern-day warriors rely on each other – and the very best equipment the world has to offer. Since failure is not an option, they often carry a M4 A1 carbine and accessories. To protect the weaponry that is necessary to resolve dangerous global conflicts, the military chooses the world's best defense: GunCruzer gun cases.
GunCruzer's hard-shell military case is designed with a special custom-foam interior that can handle up to six SOPMOD M4 carbines with RIS, collapsible stock and other rifle accessories, such as ACOG optical sights (mounted on top of rail), AIM Point (mounted on rail) visible laser lights. It will not accommodate the vertical handgrip or accessories mounted on the lower rail. Removable foam plugs make room for the M203 grenade launchers.
Also, the gun cases' high-density closed-cell polyethylene foam bed is easy to clean, yet impervious to solvents and chemical attacks. The lid's interior cushion is egg-crate-style convoluted open-cell polyurethane foam. This exceptional, durable Pelican case is approved for use by military personnel to ensure protection of their indispensable weapons of peace. For superior security, dual-locking flanges allow the military personnel to secure the GunCruzer carrying case with a padlock.
Military units must be able to engage quickly. Therefore, the M4 6-Pack case is equipped with standard-issue stainless steel ball bearing wheels for fast and easy maneuverability. The Pelican case is also built with folding front handles and two folding side handles. Concern about travel or operations in severe climates is not necessary. The ultra humid Amazon or the bitter extremities of Antarctica are no match for M4 6-Pack gun cases which exceed military standards of humidity (120F at 95% RH), immersion (2" at 160F), 4159-J stacking requirement (400 lbs.), and drop test (48").
This indestructible military carrying case weighs only 37 lbs. when empty. Exterior dimensions are 37.05"L x 27.20"W x 14.37"H. It is 20% smaller than the previous M4 model it replaces, and has a compact design that is lighter and easier to stow while giving the same protection.
U.S. military Special Forces confront peacetime threats and open warfare. Their international responsibilities include the complexities of organizing, training, advising and assisting host-nation military and paramilitary forces. On each mission there is little room for error. That's why they trust Pelican case. That's why they choose the one option that does not offer failure: GunCruzer gun cases.
For more info, visit http://www.casesbypelican.com; call 800-882-4730 in the U.S. or 909-613-1999 internationally; fax 909-613-1979; or write to CaseCruzer at 4665 State Street, Montclair, CA 91763
Contact
Tatiana Briceno
(909) 613-1999
(800) 882-4730
pr(at)cpd-industries.com
###