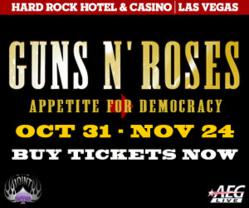 It's very clear the big boost in our searches came from Axl's recent share in the media spotlight.
Melbourne, Victoria (PRWEB) October 29, 2012
It's become well known that Axl Rose, singer of hard rock band Guns N Roses, rarely makes guest appearances and is often temperamental about turning up to his own live shows. So when The Rolling Stone reported two successful public displays of the mysterious rockstar, one at a charity event with Neil Young and the other as a guest on 'Jimmy Kimmel Live', the music merchandise and band t-shirts webstore Planet 13 was swamped by fans, spiking their search stats for Guns N Roses items by a whopping 72%.
A few days ago, a report of Axl Rose's live appearance with Neil Young for the Bridge School Benefit concert hit the front page of the Rolling Stone's website. Fans were pleasantly shocked that the unpredictable singer arrived on time to the show on both nights, as well as performed; a rare event indeed worthy of music headlines.
"Guns N Roses fans have been really patient with Axl's erratic behaviour since the original line-up splintered years ago," says Shawn Scott, creator and frontman of punk band Voodoo Lovecats and owner of webstore Planet 13, "It's sad to say, but through his actions, fans came to accept the fact their idol had little regard for them."
Yesterday, more music news headlines stunned Guns N Roses fans with a story of another Axl appearance, as a guest of popular TV talk show 'Jimmy Kimmel Live.' During the show, Axl spoke of his early days in Los Angeles, about singing with Neil Young, and even briefly touched on politics.
The interview continued with a discussion about the upcoming Guns N Rose's Appetite for Democracy residency in Las Vegas, which commences October 31 and will run until November 24. Axl then astonished the audience by announcing they all had tickets to the show under their seats, as well as a meal after the taping was over.
"Axl's clearly trying to win back his fans," continues Shawn, "and his efforts have already worked, at the very least, for his fans who shop with us." Since Axl's public appearances, Planet 13's Guns N Roses item search has spiked by over 72% in the past month, with 1/3rd of that increase being in the past several days. "It's very clear the big boost in our searches came from Axl's recent share in the media spotlight."
"Guns N Roses has always been a highly sought after product at Planet 13," remarks Shawn, "so I was expecting a rise in interest for them when I found out about their Las Vegas residency, but nothing like what's happened to our searches in the last few days. It shows fans are ready, no, more than ready, they're truly eager to be pleased. So I hope Axl takes this opportunity to heart."
Planet 13's continued support of the band through 'thick and thin' has kept fans coming back to them for licensed Guns N Roses merchandise through the years. Shawn adds, "We will definitely stock more of their new band tees and merchandise as they become available."
To find out more about GNR merch availability visit the Planet 13 online store.
A bit about Planet 13™
Planet 13™ was conceived and created in 2004 by Shawn Scott, front man of the once-popular Melbourne-based glam/punk band Voodoo Lovecats. His online store http://www.planet13.com.au features an extensive range of fully-licensed entertainment and band merchandise.