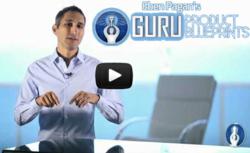 GURU Product Blueprints Delivers High-End Coaching and Training Mentor ship from Respected and Reputable Internet Marketer Eben Pagan.
San Francisco, CA (PRWEB) July 17, 2012
Eben Pagan, one of the most decorated and recognized marketers in the world of Internet marketing, has recently released the first of a series of professional quality videos to introduce his newest training program Guru Product Blueprints.
Eben's first video, "Emotional Intelligence" goes over how to turn knowledge into training and informational products.
Emotional Intelligence and the series of videos can be watched here.
Additional to the videos, viewers have an assessment test to take, which will get customers ready to work on their own informational product along with Eben once the program launches.
Guru Product Blueprints will be live on July 17th. This course highlights the creation of 7 of Eben's most popular informational products, which have made him well over $1 million Dollars in sales each. This is an impressive feat and one that many top and elite internet marketers simply do not accomplish.
The main benefactor of GURU Product Blueprints is learning from a prestigious and extremely successful mentor such as Eben to cut down on the learning curve usually required to create real traction online.
"It's rare to see someone actually give away the formula to their success, which is what makes Guru product blueprint such a unique product" Says Guru Product Blueprints Co- creator, Nick Bridge.
According To Eben Pagan, "The pack contains useful tools, templates, and video training on how to set up a business that sells information." In addition to all the tools, the course comes with 10 weeks of coaching sessions that will show viewers how to better structure their products to increase sales.
Eben is one of the most known Internet marketer entrepreneurs who got started online after writing an E-book while unemployed. Since his first e-book, he has made several information products in some of the most competitive niches online, with major success.
So far Eben has already released 4 videos to introduce the big launch. To watch Guru product Blueprints video series click here.
With Guru Product Blueprints, Eben focuses on showing his students the principles of finding the right niches to create an information product. The training contains video, audio, coaching, and hands on information that will get new or experienced viewers ready to launch their own info products.
To learn more about Guru Product Blueprints and get too started with the assessment test visit http://GURUProductBlueprint.org for more information.