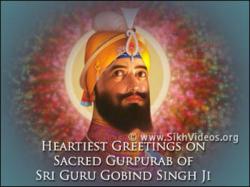 Chandigarh, Punjab (PRWEB) December 31, 2008
On the sacred birth anniversary of the tenth Guru of Sikhs, Sri Guru Gobind Singh Ji, which falls on 5th January, 2009, a special one hour program prepared by the Guru Nanak Daata Baksh Lai Mission will be telecast on the reputed Punjabi TV Channel - JusPunjabi. This one hour program will be shown at 5:00 pm (Eastern Time) and will be available all over the US.
In India, special programs on Sri Guru Gobind Singh Ji will be telecast on 3rd, 4th and 5th January from 6:00am to 7:00am in the morning and 5:30pm to 6:00pm in the evening to celebrate the sacred occasion in a befitting manner.
The programs have been produced and directed by Brig. Partap Singh Ji Jaspal (Retd.), direct disciple of Baba Nand Singh Ji Maharaj, and being a completely non-profit humble endeavor are also available on the mission's websites SikhVideos.org and SriGuruGranthSahib.org for free viewing.
It may be noted that the programs of the mission are also telecast on a weekly basis on the JusPunjabi channel at 6:30pm (EST) every Saturday and Sunday. They can be viewed in India on the DE TV Channel daily at 6:00am in the morning and 5:30pm in the evening (Indian Standard Time).
About Guru Nanak Daata Baksh Lai Mission:
Guru Nanak Daata Baksh Lai Mission, through which the productions and publications of Brig. Partap Singh Ji Jaspal (Retd.) are released, is at the forefront of promoting universality of Sikhism and its Divine Content, embracing the whole mankind as one global family of the sole beloved God. It reaches out to the world through the mediums of internet, TV channels, audio and video productions, and book publications. The mission seeks no publicity and serves the whole global community in the firm belief of oneness of godhood and oneness of the mankind. This mission is purely a labor of love of a family group and is based at 203, Sector 33-A, Chandigarh, Phone: +91 172 2601440.