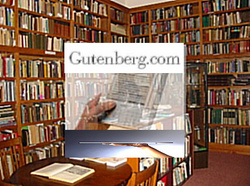 For folks who want to know more about ebooks, they should go to Gutenberg.com. It's a great new central information resource for book lovers.
Palo Alto, CA (PRWEB) February 9, 2009
Gutenberg.com launched today, as a new central information resource and social network for the ebook community. Gutenberg.com is for people who read ebooks or would like more information about them, as well as professionals involved in the ebook and publishing industry.
Patricia Schroeder, the President and CEO of the Association of American Publishers (AAP) says, "For folks who want to know more about ebooks, they should go to Gutenberg.com. It's a great new central information resource for book lovers."
Mrs. Schroeder represented Colorado's First Congressional District (Denver) in the United States House of Representatives for 24 years, prior to assuming her current post with the AAP in 1997.
Sections on Gutenberg.com, which has been in beta form since November 2008, include: Social Network - For ebook people to learn, discuss, and enjoy ebooks; Ebook Directory - For finding ebooks; Ebook Readers - Information on ebook reading devices; Ebook Technologies - New technologies in the ebook industry; Industry - Issues in the publishing industry with regards to ebooks; Newsletter - Weekly email newsletter to keep up to date on ebooks
Chris Andrews, the Executive Producer of Gutenberg.com, is particularly excited about bringing together people who read ebooks into a new network, where they can learn, discuss, and have some fun. "I think it's important that we remember that reading is fun. It's fun whether it's in a printed book or an ebook. And people love to discuss books. Let's not let the 'computer syndrome' hit us, where we make everything complicated. Keep it simple, this is a book, everyone knows what a book is. It's been around for over 500 years."
Also announced was a new cooperative project with the Gutenberg Museum of Mainz, Germany, the birthplace of Johannes Gutenberg, the inventor of the printing press. Gutenberg.com and the Gutenberg Museum have created a section on Gutenberg.com that has information and resources about the 500 year history of the book.
Chris Andrews' own experience in publishing ebooks began in 1990, when he was the first publisher of 'The Guinness Disc of Records,' a CD-ROM book based on the world's best-selling copyrighted book, The Guinness Book of Records. The 'Guinness Disc' was one of the very first consumer digital media products. It included multimedia enhancements such as a lesson from the World's Fastest Talker, and the longest words ever, spoken in numerous different languages.
Then in 1998, the second edition of a book that Mr. Andrews authored ('The Education of a CD-ROM Publisher: A Insider's History of Electronic Publishing', published now by Information Today, Inc.) was published simultaneously in hardcover, paperback, as well as ebook, Palm, and HTML/Online versions.
Mr. Andrews recently published an article entitled "20 Reasons Why 2009 Will Be The Year Of The Ebook" on Gutenberg.com. This article details cultural, technological, and business reasons why he believes in 2009, the ebook industry will gel and break out into the mainstream.
Gutenberg.com is a new place on the Internet for people who love ebooks, those who want to find out more about ebooks, as well as professionals in the ebook and publishing industry. Chris Andrews is the Executive Producer and he can be reached at chris (at) chrisandrews (dot) com. Mr. Andrews is also currently producing http://www.UserGenerated.com, http://www.IdeaFreak.com , and http://www.Mozartian.com.
The Association of American Publishers (AAP) is the voice of the American book publishing industry. A national trade association, the AAP's members include most major commercial publishers, as well as smaller and non-profit publishers, scholarly societies, and university presses. The AAP handles a wide variety of issues and advocates positions in diverse areas such as literacy, freedom to publish, and intellectual property rights. For more information about the AAP, go to http://www.publishers.org or contact jplatt (at) publishers (dot) org.
###