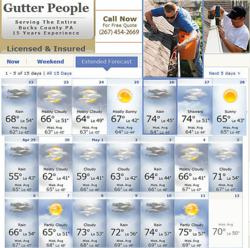 As a professional in the gutter and home service industry, the thing that saddens me most is to see a family pay thousands of dollars to repair their home from water damage caused by clogged or broken gutters.
Brian Mayberry, Owner, Gutter People Bucks
Doylestown, PA (PRWEB) April 19, 2012
The snow has finally cleared here in Doylestown PA and along the entire eastern seaboard, and according to the National Weather Service forecasts, showers will be especially heavy next week and throughout the months of April and May. So, for residents of Doylestown PA, or anywhere along the east coast for that matter, it is time to get the gutters cleaned and repaired before the heavy rains potentially damage the home and property.
Over the winter, debris piles up in gutters, but since water flow is reduced due to snow and freezing temperatures, many people fail to notice clogged and damaged gutters until the snow has melted and the heavy rains have hit. But the problem with this is severe structural damage to the home (e.g. water damage to exterior, walls, foundation, and basements) often occurs upon the first heavy rain and before a home-owner even notices his gutters are clogged and/or damaged. This can lead to expensive repairs that easily could have been prevented by cleaning and repairing gutters in advance.
"As a professional in the gutter and home service industry, the one thing that saddens me most is to see a family pay thousands of dollars to repair their home from water damage caused by clogged or broken gutters…especially when the entire problem could have been avoided altogether with just simple, regular gutter maintenance," says Brian Mayberry, owner of Gutter People Bucks County.
There are several different gutter cleaners in every town, so it's important to keep the following three things in mind while choosing a company for cleaning, repairs or installations:
1. Hire an insured gutter contractor –this frees the home owner from liability in case of injury, which is more common than most would think (over 160,000 ladder injuries per year according to official U.S. stats)
2. Check references –anyone can say they are the best, but references rarely lie (especially if one checks a few references).
3. Ask for a quote beforehand –most companies give free quotes, so it is essential to demand one before they start work so there aren't any surprises.
Now, if a home doesn't already have gutters, it is a good idea to consider investing in a system in order to avoid future home damage. In this case, there are many things to consider:

Gutters and downspouts materials and types
+Copper vs. Aluminum vs. Vinyl
+"K" system vs. ½ round
+Seamless vs. non-seamless
+Leaf Relief
+Gutter Guard
+Other brand names
+Custom fabricated
Investing in Gutter Guards to reduce maintenance costs vs. standard gutters
Learn more about the above gutter installation points by visiting this gutter information page.
About The Gutter People Bucks County:
The Gutter People is a locally owned and operated gutter service company with offices throughout Bucks, Montgomery, Delaware and Chester Counties. This fully insured, licensed and bonded company has over 15 years of experience in the industry and has serviced over 10,000 homes and businesses. Gutter People Doylestown is the Gutter People's newest local branch, and can be reached by calling (267) 454-2669 or visiting their Doylestown Website.