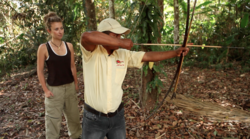 Known as the 'Land of Many Waters' Guyana has one of the largest unspoiled rainforests in South America.
Missoula, MT (PRWEB) April 25, 2013
Adventure Life, a leader in authentic small group tours, has created a unique jungle survival itinerary in the small co-operative Republic of Guyana. Inspired by intrepid travelers who prefer a hands-on adventure, this eight-day Guyana tour offers training on jungle camping, shelter building, and food gathering during a survival course with Amerindian guides. Combine this off-the-trodden rainforest experience with visits to Georgetown, remote Amerindian villages and Kaieteur Falls for a comprehensive Guyana adventure. For more information, call Adventure Life at 800-344-6118 or visit http://www.adventure-life.com/tours/guyana-tours/.
"Known as the 'Land of Many Waters' Guyana has one of the largest unspoiled rainforests in South America," said Adventure Life General Manager Jonathan Brunger. "Many parts are virtually inaccessible by humans and more than 80% of the country is still covered by forests."
After arriving in the capital city of Georgetown, guests fly to Annai and continue by 4x4 vehicles to Surama village, deep in the rainforest savannah. Surama's inhabitants are from the Makushi tribe and still observe many traditional practices. Guests spend the afternoon getting introduced to basic jungle survival skills, such as collecting food and fuel for fires, and end the day at Rock View Eco-lodge.
In the morning, guests are joined by a Makushi guide and begin their day-long jungle training where they build an overnight shelter, and learn fishing and hunting skills, as well as techniques for gathering food and water. Training culminates with an overnight in the remote jungle.
"The Makushi guide shows you how to make fire with traditional materials," said Brunger. "He demonstrates their method for hunting and fishing, and makes a wabini [elevated platform] to observe the wildlife at night."
Guests next explore the Iwokrama Rainforest Reserves by 4x4 vehicles. The forest is gaining international acclaim for its healthy jaguar populations, and travelers often encounter agouti, tayra, puma, parrot, trumpeters, tapirs and black curassows. After a busy day of top-notch wildlife viewing, guests relax at the rainforest lodge.
A morning flight takes guests back to Georgetown for a guided city tour, highlighting unique architecture and old colonial homes. Georgetown's famous Stabroek Market, once described as a "bizarre bazaar", contains every conceivable item from household goods to gold jewelry. The Botanical Gardens and zoo are home to the world's most all-encompassing collection of tropical flora, and more than 100 species of Guyanese wildlife.
The trip finale is a flight to Kaieteur and Orinduik Falls. Kaieteur is the world's highest free-falling waterfall and nearly five times the height of Niagara. This natural beauty is very remote and it's likely to be the only ones viewing it on any given day. The flight continues onto Orinduik Falls before returning to Georgetown to conclude this epic Guyana holiday.
For more information on this Guyana Jungle Survival tour or other Guyana tours, call Adventure Life at 800-344-6118.
About Adventure Life:
Adventure Life is a company of travelers with a passion for sharing the world with others. Our travel experience runs deep, from years volunteering in rural Africa and Central America, to research trips in Asia, studying in Europe, guiding in the Rockies, and just bouncing around every corner of the world. This deep experience is the reason behind our pioneering approach to travel and award winning itineraries. For nearly fifteen years we have been creating personal itineraries that immerse our travelers in the vibrant colors of a place, leaving both our guests and hosts enriched by the experience. From our beginnings as a Latin America specialist, we now offer private journeys, small group tours, and expedition voyages throughout the world. We pride ourselves on our intimate knowledge of our destinations and our dedication to sharing the world.