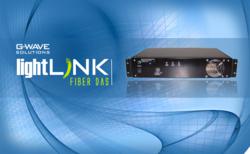 South Hackensack, NJ (PRWEB) May 31, 2012
The LightLink fiber optic distributed antenna system uses single-mode optical fiber cable to distribute RF signals between a central RF hub and remote antenna units. The wireless distributed system comprises of a master distribution unit (MDU) that interfaces with remote antenna units (RAUs) placed throughout the building. Remote antenna units (RAU's) are available in different power configurations to provide scalability in the design which improves system price/performance. This flexibility allows the engineer to scale the system design to the precise composite design requirements without over-engineering individual RAU's. Unobtrusive, lightweight antennas are strategically located to optimize the RF coverage area. Enclosure options range from 19" rack mount to NEMA4 for outdoor applications.
The new Lightlink family of systems compliments G-Wave's portfolio of bi-directional amplifiers (BDA), passive components such as Hi-Q diplexers, duplexers and triplexers, splitters and combiners. This is a significant addition to the in-building wireless product line. System integrators have one-stop shopping at G-Wave.
G-Wave also offers design engineering support using IBWave's latest suite of design tools. This capability in conjunction with a complete portfolio of products enables G-Wave to deliver the best customer support in the industry.
G-Wave manufactures the LightLink system components in their manufacturing facilities located in Northern New Jersey. As an ISO certified company, G-Wave conforms to industry standards enabling them to become an industry leader in maintaining an exceptional MTBF metric.
G-Wave provides innovated value-added solutions. They have the ability to provide custom-engineering and manufacturing for non-standard RF products for customers that require a quick turnaround. Learn more about G-Wave by visiting their website: http://www.gwaverf.com.