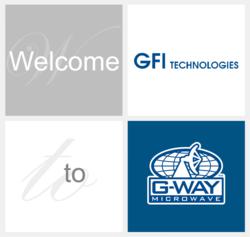 South Hackensack, NJ (PRWEB) July 15, 2011
GFI Technologies, with over 19 years of experience in supporting technical application and sales requirements, is a valuable addition to the G-Way Rep Team. GFI Technologies will be covering the New England territory - Maine, New Hampshire, Vermont, Massachusetts, Connecticut and Rhode Island. Their staff is comprised of technically trained engineers who have a broad knowledge of the RF & Microwave Component industry and its demands. G-Way is enthusiastic about the affiliation with GFI and is certain that they will fulfill their expectations. G-Way is confident that this powerful team will further elevate their integrity and success through precision and outstanding service. To learn more about GFI Technologies, you can visit their website at: http://www.gfitechnologies.com.
G-Way Microwave is an ISO9001:2008 certified company located in Northern New Jersey - approximately 5 miles from Downtown Manhattan. They design and manufacture custom passive and active RF and microwave components for Wireless Signal Enhancement systems which are for indoor and outdoor, Commercial, Public Safety, Government and Military applications.
GFI and G-Way share mutual goals: to provide the absolute best value to every customer by consistently meeting delivery schedules, supplying products of superior quality while offering extremely competitive pricing. Furthermore, G-Way is highly recognized for their major strength: customized solutions to accommodate specific system requirements. They immediately respond to any customer inquiry or special request and provide support beyond the point of purchase. Their mission statement has always been Total Customer Satisfaction. For more on G-Way Microwave and its products, or to find a rep in your area, visit their website at: http://www.gwaymicrowave.com.
###