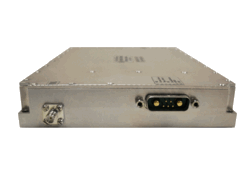 Typical applications include communication systems and broadband jamming.
South Hackensack, NJ (PRWEB) August 25, 2011
The module's package size is 8.2" x 5.4" x 1.1", with a nominal operating DC supply of 28V at 6 Amps. Additional standard features include current and temperature monitoring, enable/disable function and over-temperature shutdown with auto recovery. Standby current is a maximum of 0.05 amps under disable status. All DC, monitoring functions, and muting are accessible via a D7W2 connector. Typical applications include communication systems and broadband jamming.
G-Way Microwave is an ISO9001:2008 certified company incorporated in 1997. Their high-tech engineering and manufacturing facility, located in Northern New Jersey, designs and manufactures custom passive and active RF and microwave components for Wireless Signal Enhancement systems designed for outdoor and indoor applications in commercial and dual-purpose environments.
G-Way's team has experience in a wide-range of RF designs and implementations, at both the component and system levels. Unique insight provides a comprehensive solution utilizing a multitude of technology to achieve a cost-effective, high-performance solution.
G-Way occupies a modern 5,000 sq. ft. facility conveniently located in immediate proximity to New York City. Included within this space is a state-of-the-art machine shop which allows quick turnaround for prototyping requirements, RF testing, quality control, a production facility, and administrative offices.
Their products include but are not limited to: Passive components, which consist of bandpass, lowpass, highpass, and bandstop filters. Additionally, filtering configurations include diplexers, duplexers, triplexers, and multiplexers. Active components consist of Low Noise Amplifiers (LNA's), Low-, Medium-, and High-Power RF Amplifiers. Furthermore, system design and assembly is available for commercial, military, telecommunications, test and measurement, and custom applications.
The absolute best value is provided to every customer by consistently meeting delivery schedules, supplying products of superior quality while offering extremely competitive pricing. Furthermore, G-Way is highly recognized for their major strength; customized solutions to accommodate customers' specific system requirements. They immediately respond to any customer inquiry or special request and provide support beyond the point of purchase. Their mission statement has always been Total Customer Satisfaction.
For more information visit their website at http://www.gwaymicrowave.com.
###