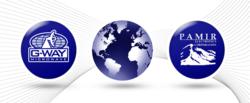 South Hackensack, NJ (PRWEB) July 07, 2011
Pamir Electronics shares mutual goals with G-Way, forming a powerful team with endless opportunities. In business since 1988, with knowledgeable experts on staff, Pamir works closely with customers worldwide to meet their requirements with determination. You can learn more about Pamir Electronics by visiting their website at: http://www.pamir.com.
G-Way Microwave is an ISO9001:2008 certified company incorporated in 1997. Their high-tech engineering and manufacturing facility, located in Northern New Jersey, designs and manufactures custom passive and active RF and microwave components for Wireless Signal Enhancement systems designed for outdoor and indoor applications in commercial and dual purpose environments.
G-Way's team has experience in a wide-range of RF designs and implementations, at both the component and system levels. This allows for both a cost-effective and high-performance solution, utilizing a multitude of technology.
G-Way occupies a modern 5,000 sq. ft. facility conveniently located approximately 5 miles from downtown Manhattan. Included within this space is a state-of-the-art machine shop which allows for quick turnaround of prototyping requirements, RF testing, quality control, a production facility, and administrative offices. A vast selection of vendors including machine shops, silver platers and test laboratories are conveniently located nearby. The ability to provide consulting services and mass production outsourcing enables G-Way the opportunity to maintain competitive prices due to economically stable overhead.
Their products include but are not limited to: Passive components, which consist of bandpass, lowpass, highpass, and bandstop filters. Additionally, filtering configurations include diplexers, duplexers, triplexers, and multiplexers.
Active components consist of Low Noise Amplifiers (LNA's), Low-, Medium-, and High-Power RF Amplifiers. Furthermore, system design and assembly for commercial, military, telecommunications, test and measurement, and custom applications.
The absolute best value is provided to every customer by consistently meeting delivery schedules, supplying products of superior quality while offering extremely competitive pricing. Furthermore, they are highly recognized for their major strength; customized solutions to accommodate specific system requirements. They immediately respond to any customer inquiry or special request and provide support beyond the point of purchase. Their mission statement has always been Total Customer Satisfaction. For more information on G-Way Microwave, visit their website at: http://www.gwaymicrowave.com.
###