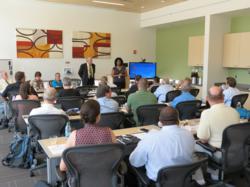 Phoenix, AZ (PRWEB) January 10, 2013
The Center for Entrepreneurial Innovation (CEI) at GateWay Community College is launching a series of free entrepreneurial seminars covering relevant topics for small businesses in 2013.
The CEI offers its free bi-weekly Lunch and Learn series as part of its continuing effort to educate entrepreneurs and the general public on important issues that impact the success of a business. Attendees are not only treated to a complimentary lunch, but they are exposed to the expertise of local industry leaders.
The series kicks off January 10 with "Got Brand? How to Create a Powerful Impression," which will feature Tom Fulcher, founder of The Idea Gardener, as he provides valuable tools that help develop the right corporate image and make a lasting impression on potential customers. Future topics will explore social media law, crowdfunding, as well as an entire month devoted to "lean" business strategies.
2013 CEI seminars
January 10 "Got Brand? How to Create a Powerful Impression" byTom Fulcher, Founder of The Idea Gardener
January 24 "Deconstructing a Patent" by Alex Hobson, Patent Agent and Founder of Invention-to-Patent Services LLP
February 7 "Lifecycle Marketing: A Hands-On Workshop to Develop Your Customer Base" by Eric Keosky-Smith, Arizona Regional Development Director at Infusionsoft
February 21 "The Legal Implications of Social Media" by Ruth Carter, Founder / Attorney, Carter Law Firm
March 14 "Every Second Counts: The Importance of Lean Manufacturing" by Jim Godfrey, Project Manager / Lean Expert
March 21 "Running Lean: How to Develop a Lean Canvas" by Sean Tierney, Founder of Grid7
April 4 "The Ins and Outs of Crowdfunding" by Brian Burt, Partner at Snell & Wilmer Law Firm
April 18 "Top 10 Myths about Agile Software Development" by Larry Apke, Engagement Manager at Neudesic
May 2 "SEO Juice: How Google+ Can Work for You" by Shannon Hernandez, Social Media Specialist / On-Air Talent at 98 KUPD
May 16 "How Immigration Law Impacts Your Small Business" by Chris Brelje, Immigration Attorney at Brelje & Associates, P.C.
May 30 "Sales Strategies that Maximize Revenues" by Nancy Sanders, Maricopa SBDC Business Analyst
All workshops will be held at CEI, which is located on the southeast corner of 38th Street and Van Buren in Phoenix. For those unable to attend in person, every seminar will be streamed live online.
Lunch and Learn seminars are free and open to the public, but seating is limited. Register for CEI events online or call (602) 286-8958.
###
About CEI
The Center for Entrepreneurial Innovation is a community-based facility at GateWay Community College located in the heart of Discovery Triangle. With funding from the US Economic Development Agency, City of Phoenix and Maricopa County Community College District, CEI provides targeted business services and proactive business support to create a systematic link between technology development, compelling markets and opportunities; entrepreneurial and managerial talent development; early stage capital sourcing; and education and training, interns, coaching and business counseling.