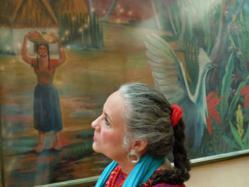 We are thrilled to have an author of Ms. Chávez's caliber on campus talking to our students and community members. --Dean Stover, English and Humanities Faculty at GWCC
Phoenix, AZ (PRWEB) October 11, 2012
Renowned Chicana author Denise Chávez will be visiting GateWay Community College on Oct. 18 in honor of National Day of Writing. Chávez will be doing a reading of some of her works and will be joined by GateWay students who themselves have received creative writing awards.
The Oct. 18 event will feature a reading and talk from 12:00 to 1:30 p.m., which is open to students and the community. The event is free and will take place at GateWay Community College's Copper Room in the new Integrated Education Building.
In addition, GateWay's creative writing students will be treated to a Creative Writing Workshop with the author.
A true child of "La Frontera" (the border), Chávez is the author of the novels Loving Pedro Infante, Face of An Angel, and a short story collection titled, The Last of the Menu Girls, and most recently, A Taco Testimony: Meditations on Family, Food, and Culture, a Memoir in Food. She has also published a children's book, La Mujer Que Sabia el Idioma de Los Animales (The Woman Who Knew the Language of the Animals).
"We are thrilled to have an author of Ms. Chávez's caliber on campus talking to our students and community members," said Dean Stover, English and Humanities faculty. "Her story is one that many of our students can identify with and for many of them, this can be a transformative experience leading them to a career in creative writing."
Chávez has received numerous accolades and honors including the Premio Aztlán in 1995, the 1995 American Book Award, was awarded the Lila Wallace – Reader's Digest fellowship from 2000-03, and was the 2003 Hispanic Heritage Foundation Award Honoree in Literature.
Other honors include the 2004 Distinguished Alumni Award from the College of Arts and Sciences at New Mexico State University, the 2004 Governor's New Mexico Distinguished Public Service Award as well as the 2004 Literary Award from the National Hispanic Cultural Center in Albuquerque.
Chávez has a B.A. in drama from New Mexico State University, an M.F.A. in drama from Trinity University, an M.A. in creative writing from the University of New Mexico and was awarded an Honorary Doctorate in Letters from the University of New Mexico.
###
About GateWay Community College
As one of the 10 regionally accredited Maricopa Community Colleges, GateWay Community College is a fully accredited public institution of higher education located in Phoenix. Offering more than 125 certificate and associate degree programs in the areas of Business and Information Technology, Health Sciences, Industrial Technology, Nursing and University Transfer, GateWay has emerged as a leading institution to meet the needs of business and industry.