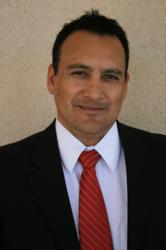 Dr. Gonzales comes to us with a strong record of faculty and administrative leadership. --Dr. Rufus Glasper, Chancellor of the Maricopa Community Colleges
Tempe, AZ (PRWEB) May 24, 2013
The Maricopa Community Colleges Governing Board has unanimously approved the appointment of Steven R. Gonzales, Ed.D., as President of GateWay Community College, effective July 1, 2013. The selection is based on a national search that netted four strong finalists who then met with students, faculty, administration,staff and in public forums with members of the community.
"Dr. Gonzales comes to us with a strong record of faculty and administrative leadership," said Maricopa Community Colleges Chancellor Dr. Rufus Glasper, who recommended Dr. Gonzales to the Board. "In accepting our invitation to become President of GWCC, he expressed his excitement to join Maricopa Community Colleges. I am confident he brings the energy and passion to the job needed to successfully continue to advance our success agenda."
"This position is well aligned with my experience, personal goals, and values," said newly minted GWCC President Dr. Gonzales. "I look forward to articulating a clear and compelling vision to further identify GateWay's unique role among its sister colleges. This position provides an exciting opportunity to lead GWCC into a new era."
Dr. Steven R. Gonzales has more than 15 years of instructional and administrative experience in higher education, including his current role as the highest-level academic officer for the Pinal County Community College District that operates as Central Arizona College (CAC).
Dr. Gonzales earned his doctorate in educational administration in the top-ranked Community College Leadership Program from the University of Texas at Austin. He was awarded a University Preemptive Fellowship, as well as the John and Suanne Roueche Fellowship. His doctoral research focused primarily on the improvement of developmental education. He holds a master of arts in teaching mathematics and bachelor of science in secondary education – mathematics from Northern Arizona University in Flagstaff.
###
The Maricopa Community College system includes 10 regionally accredited colleges – Chandler-Gilbert, Estrella Mountain, GateWay, Glendale, Mesa, Paradise Valley, Phoenix, Rio Salado, Scottsdale and South Mountain. It also includes the Maricopa Skill Center, Southwest Skill Center, and several satellite campuses and business/industry, technical and customized training institutes.